Graceland Cemetery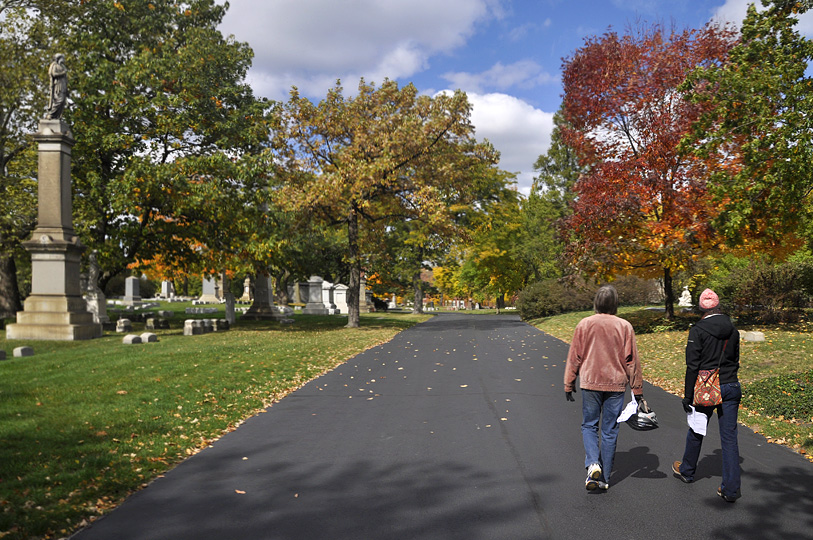 Graceland Cemetery is a Victorian era cemetery established in 1860 by Thomas Bryan.

Bryan purchased its original 80 acres and received a perpetual charter from Illinois in 1861, and soon hired prominent landscape architect H.W.S. Cleveland to plan its park-like ambiance.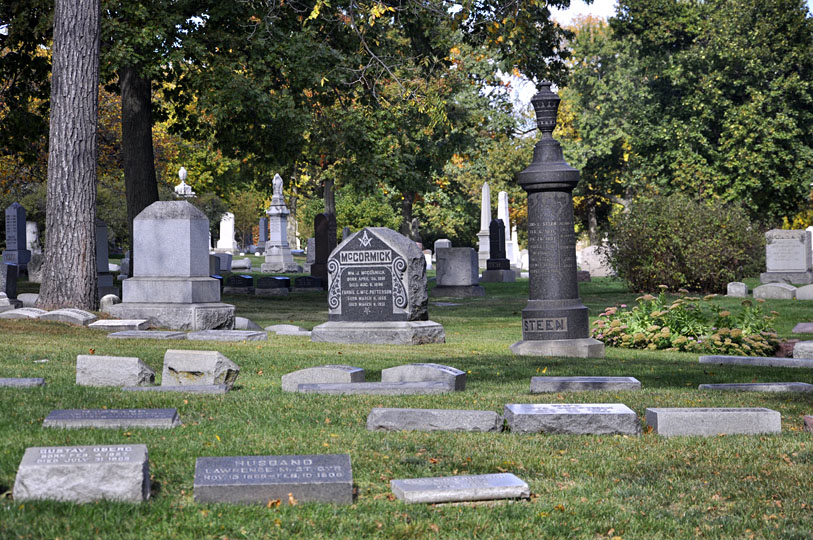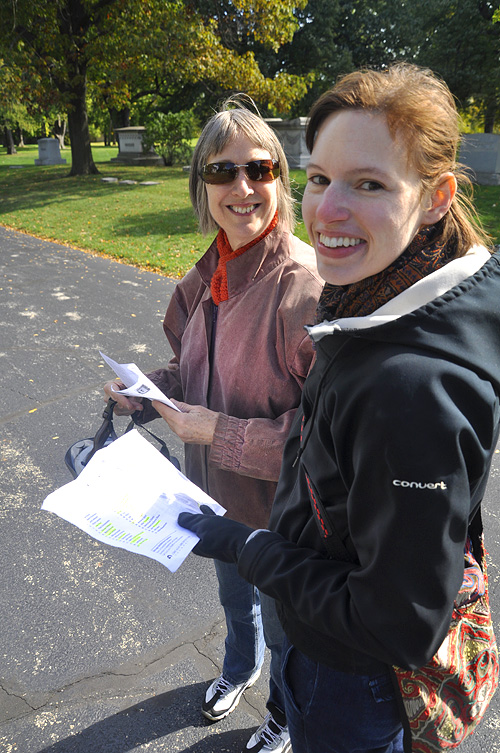 Mom, Kate and I take a stroll to visit some of those who rest here.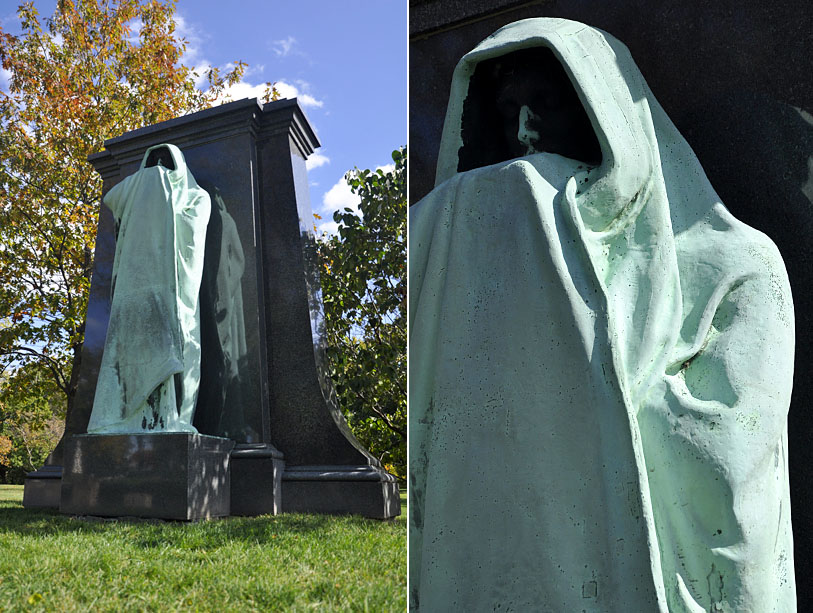 Eternal Silence, sculpted by Lorado Taft in 1909, stands at the grave of
Dexter Graves, who led thirteen families to Chicago in 1831.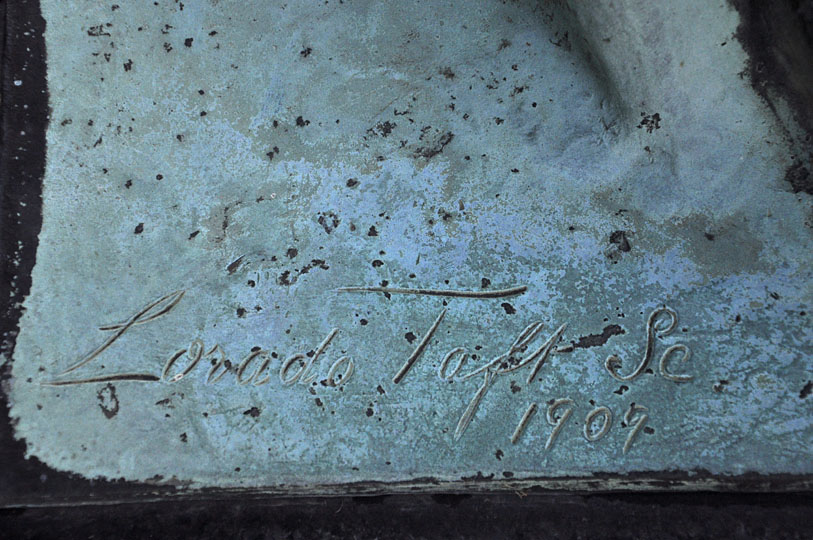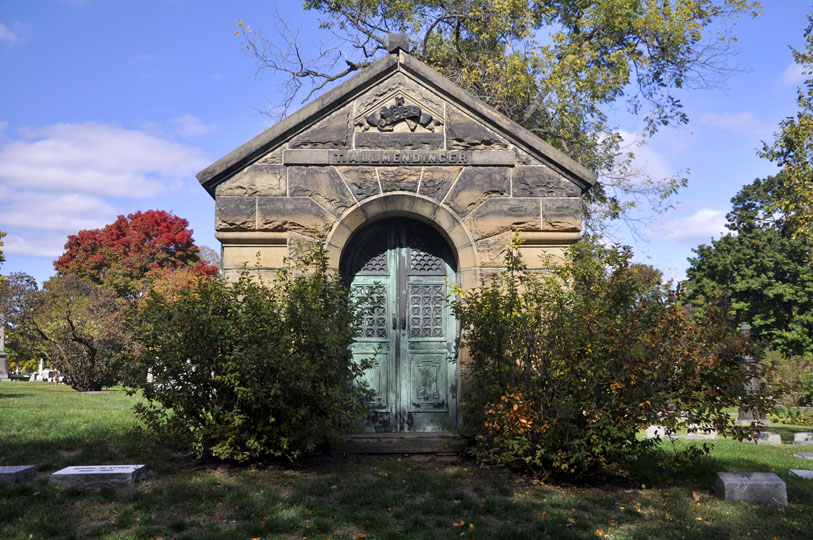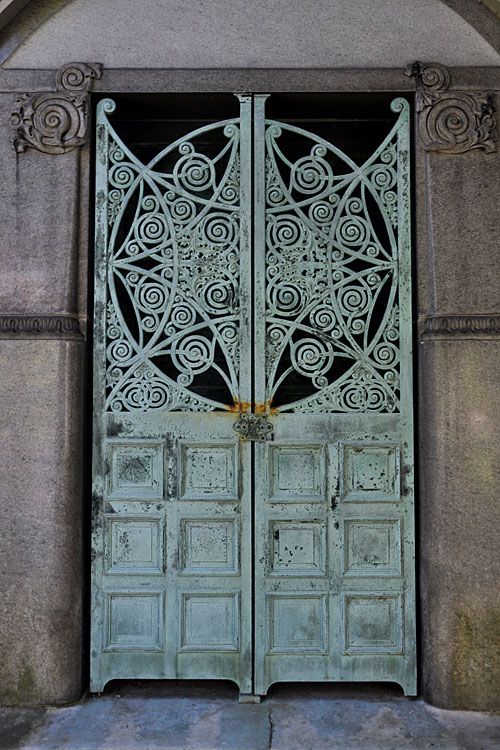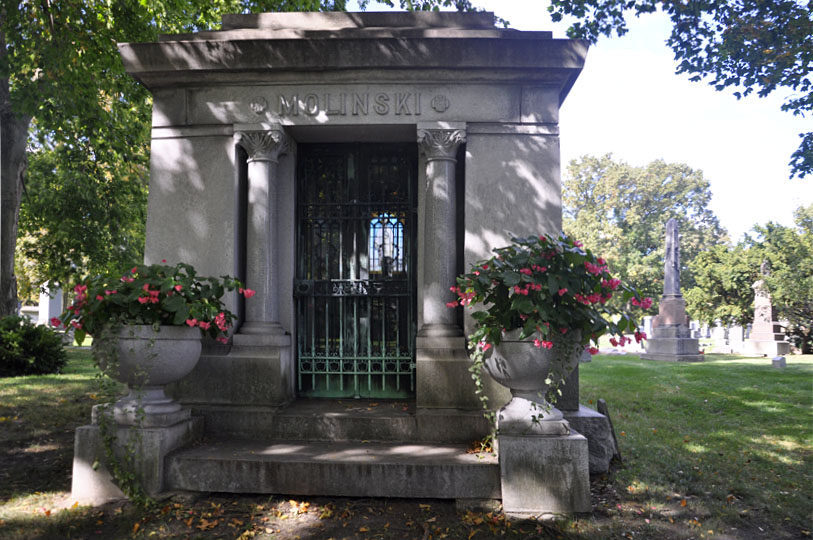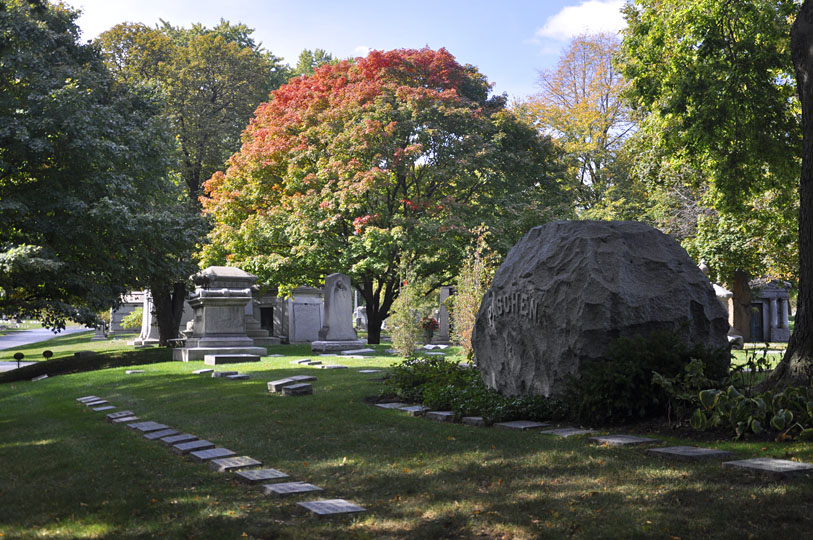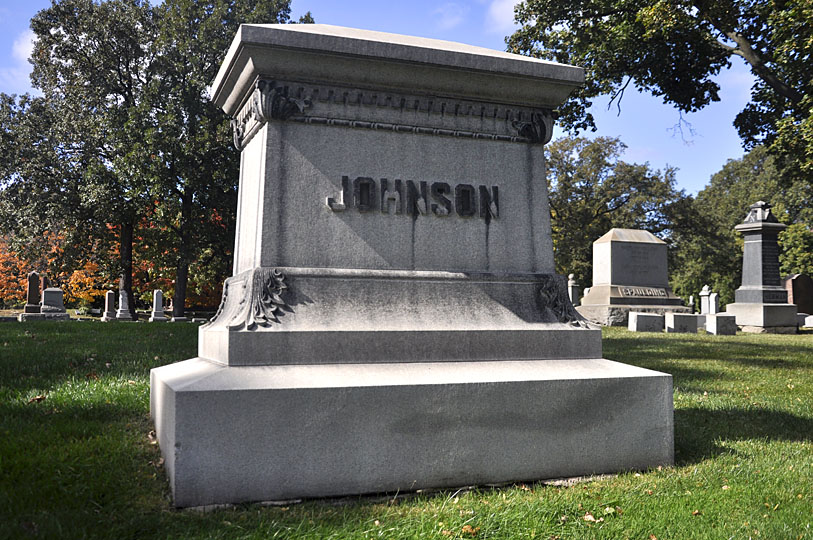 Jack Johnson, the first African American world heavyweight boxing champion, is buried near this marker. His grave was initially unmarked due to fear of desecration. He died in 1946 in a car crash after racing angrily from a diner that refused to serve him.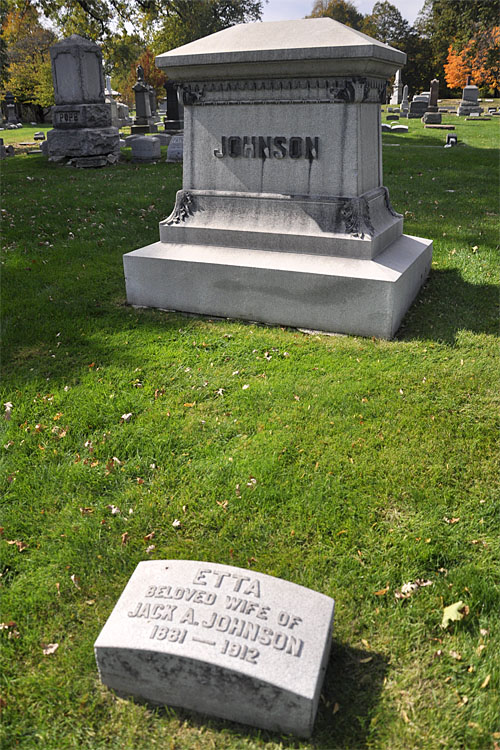 He's buried next to Etta Johnson, his first wife who was
beaten by Johnson and committed suicide in 1912.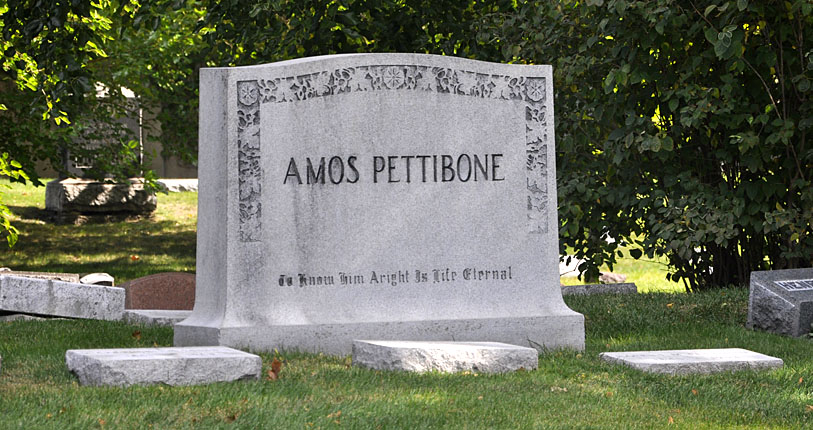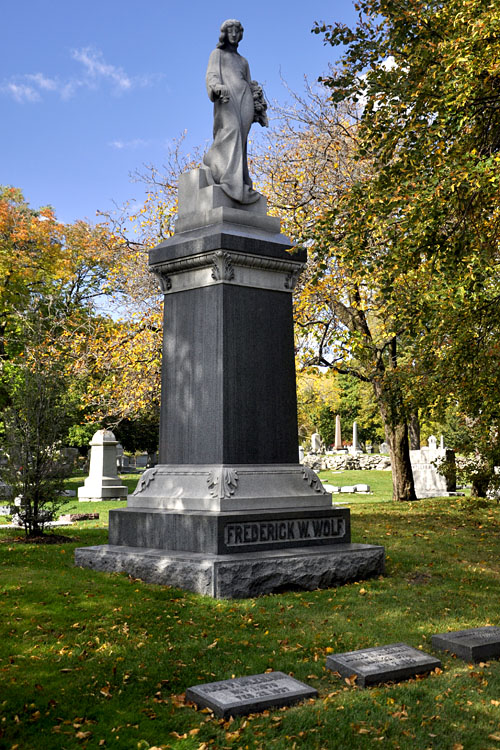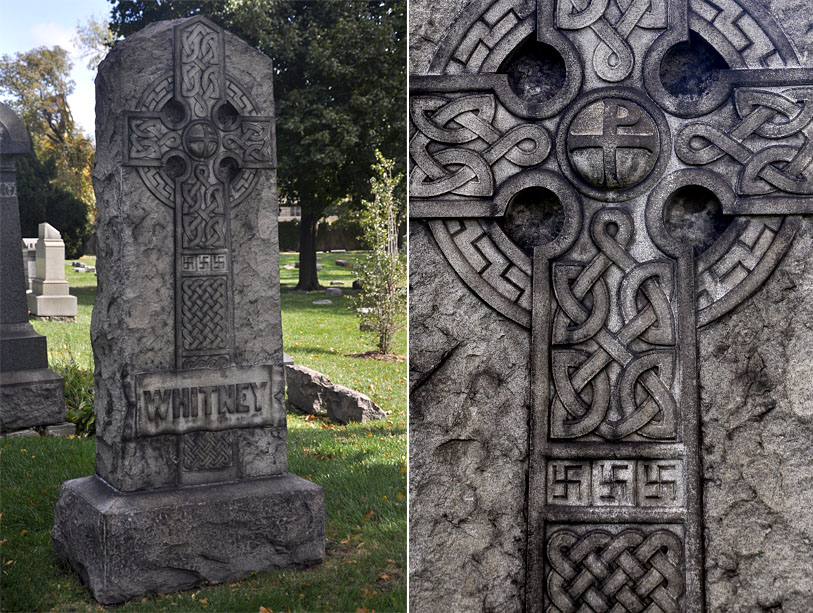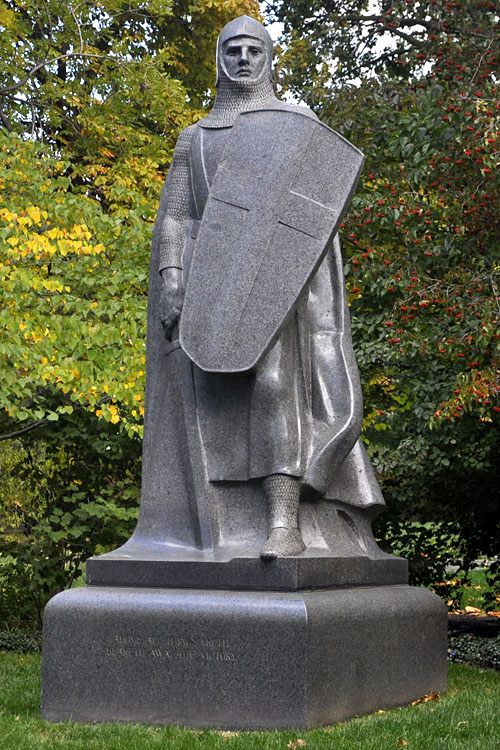 The Crusader sculpture, also designed by Taft, stands at the grave
of Victor Lawson, publisher of the Chicago Daily News.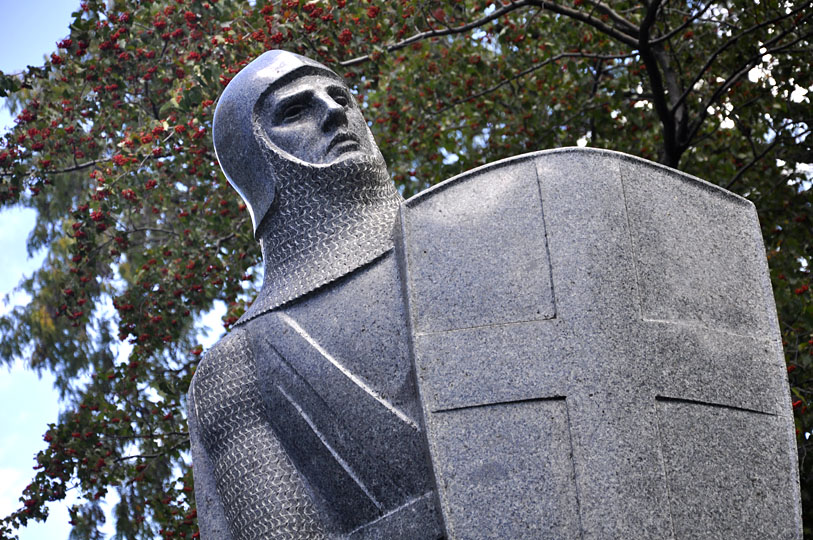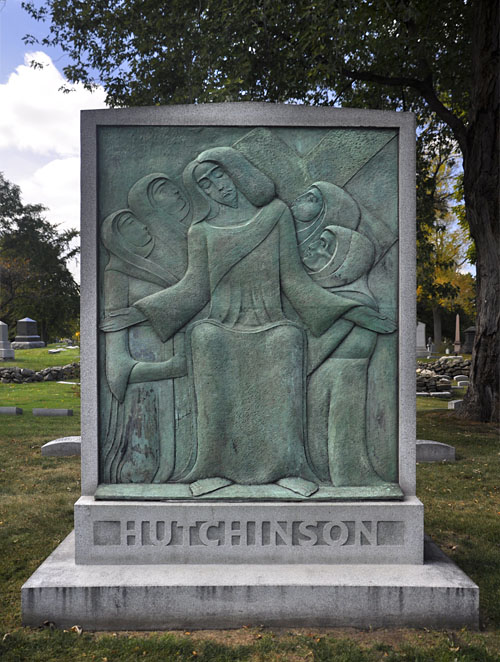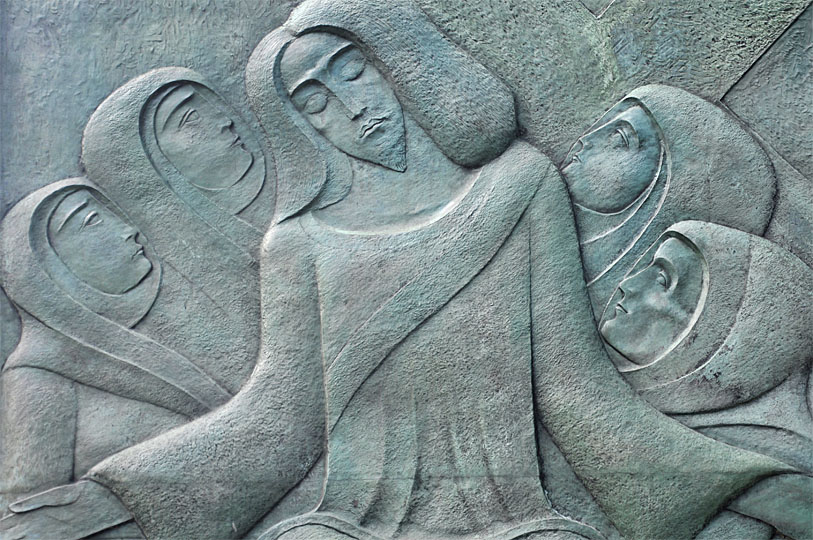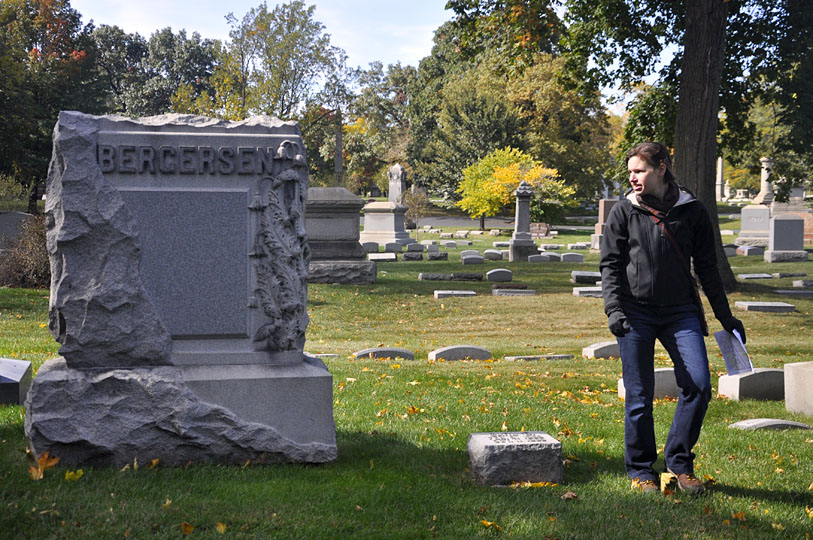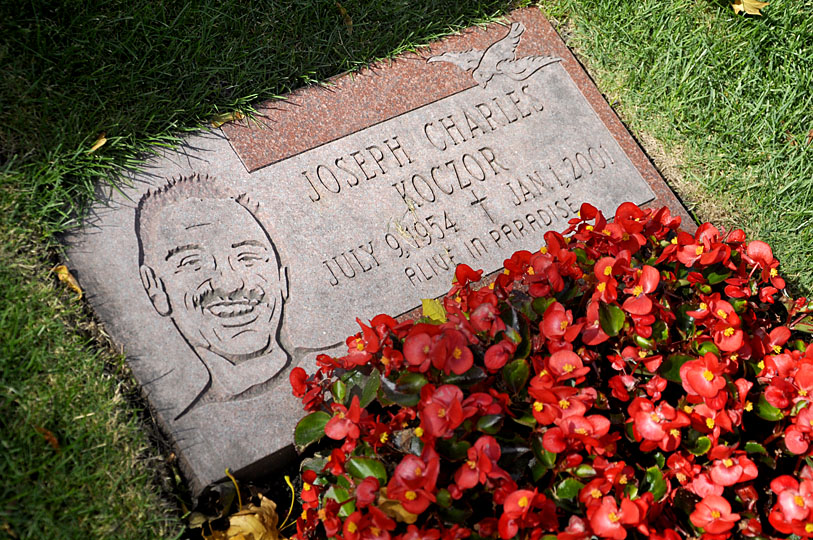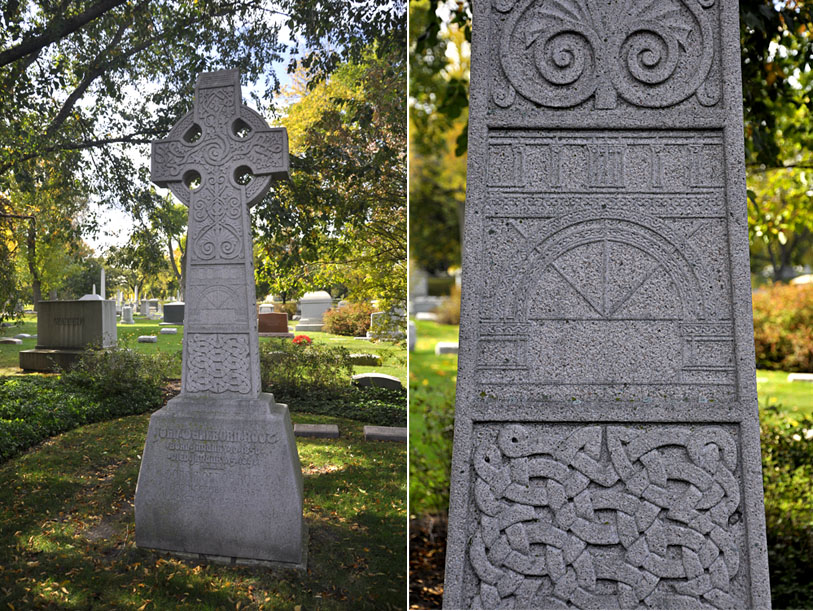 Famous Chicago architect, John Wellborn Root, one of the founders of the Chicago School style.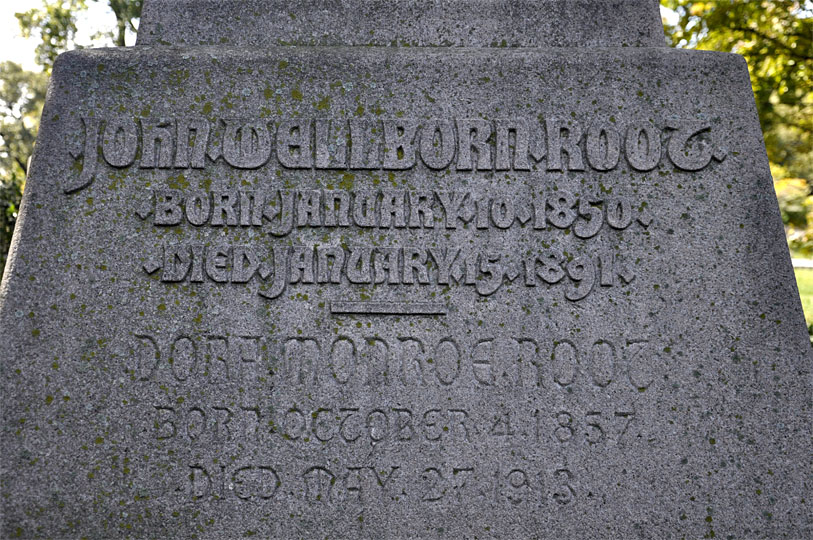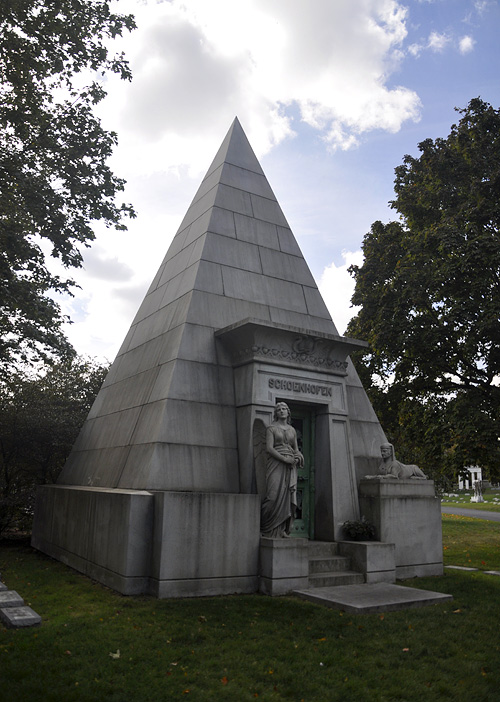 Family mausoleum for the Chicago brewer Peter Schoenhofen,
owner of one of the largest Chicago breweries in 1880.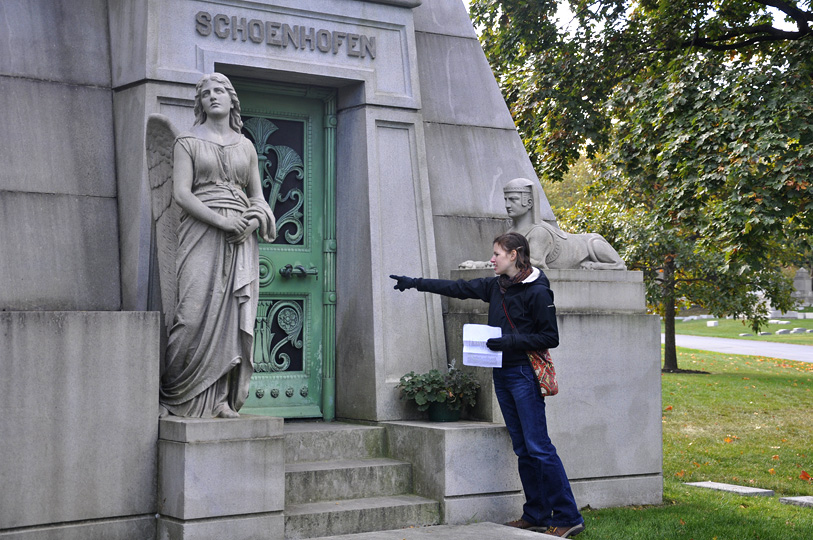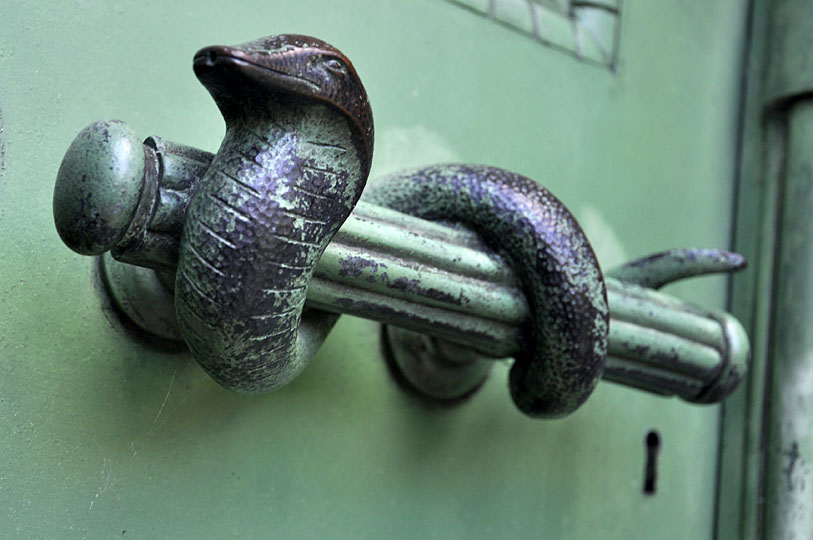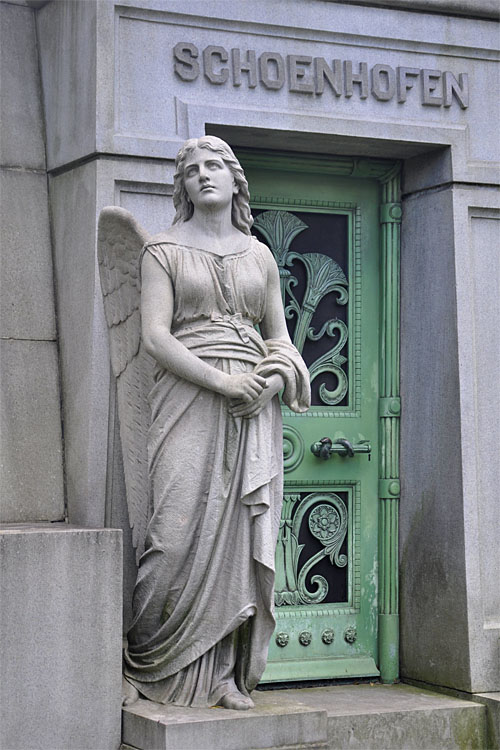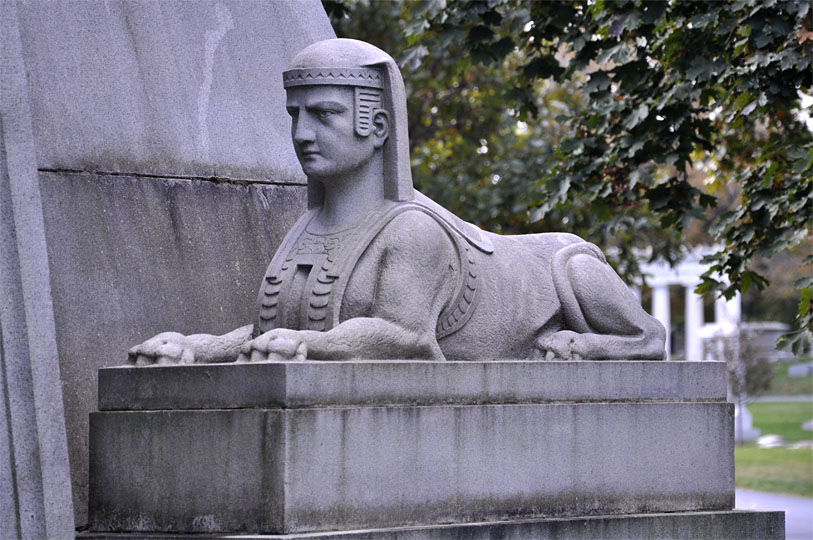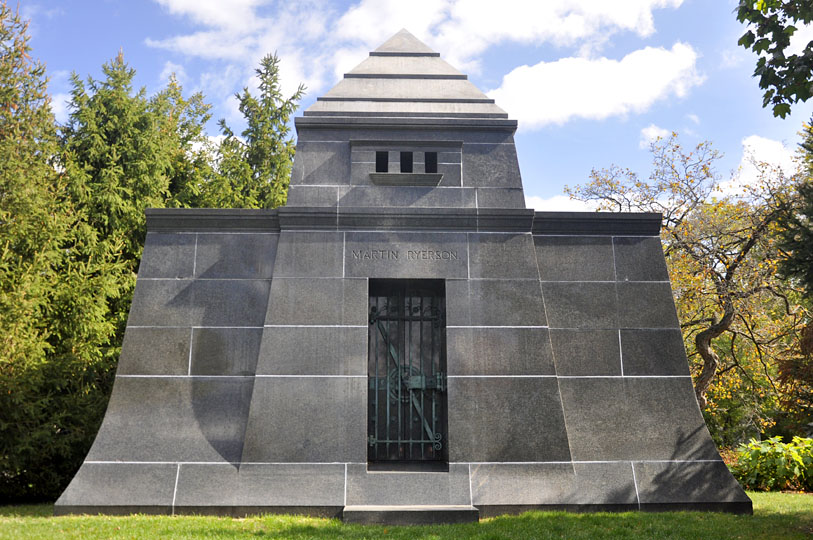 Another Egyptian revival mausoleum, designed by Louis Sullivan, for Martin Ryerson,
a wealthy Chicago lumber baron and real estate speculator.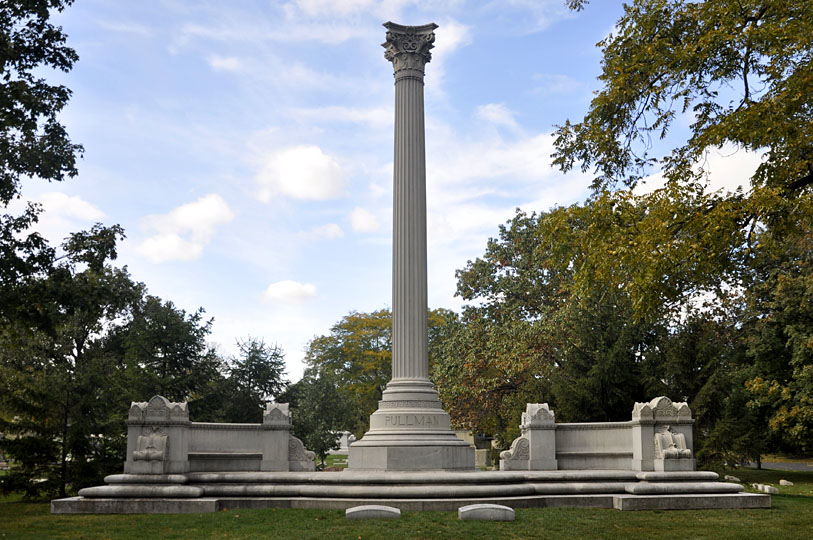 George Pullman, inventor of the sleeping car and one of the engineers who raised
Chicago by 6-8 ft to install the nation's first comprehensive sewer system.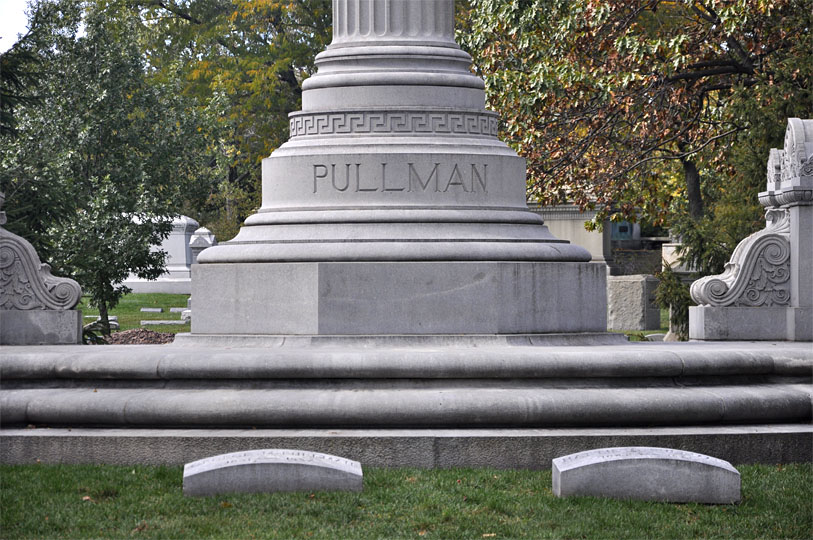 When he died of a heart attack in 1897, he was buried at night in a lead-lined coffin within an elaborately reinforced steel-and-concrete vault. Several tons of cement were poured to prevent his body from being exhumed and desecrated by labor activists, after the violent strike in Pullman's company town in 1894.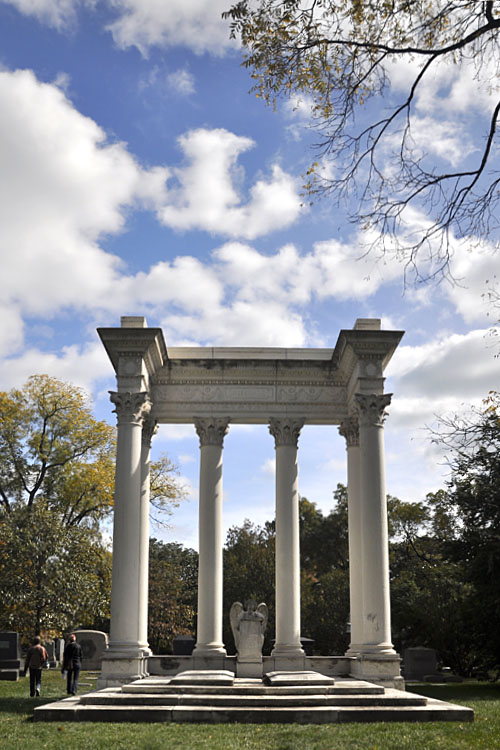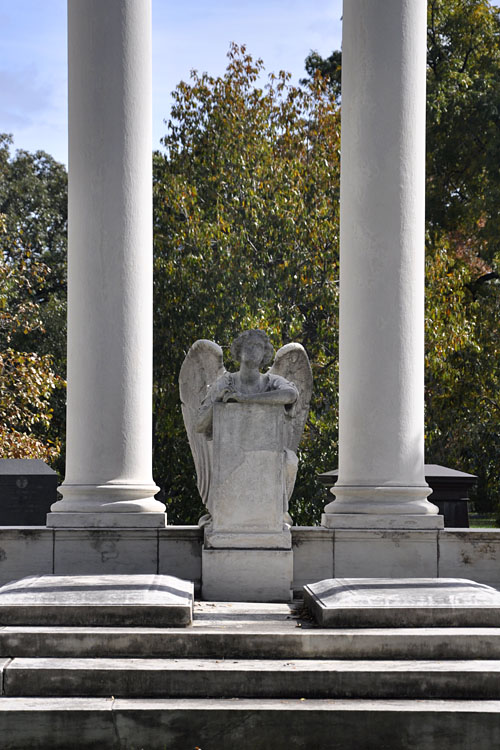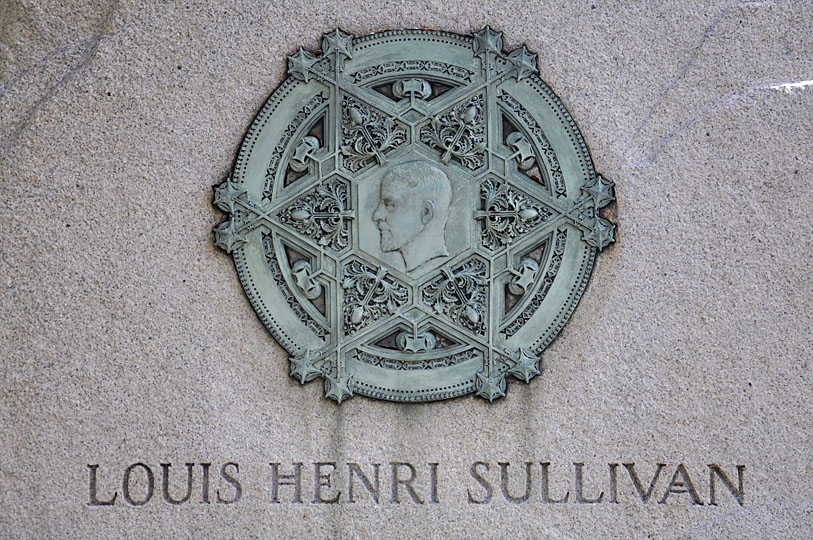 Another Chicago School architect, Louis Sullivan, father of the
modern skyscraper and mentor of Frank Lloyd Wright.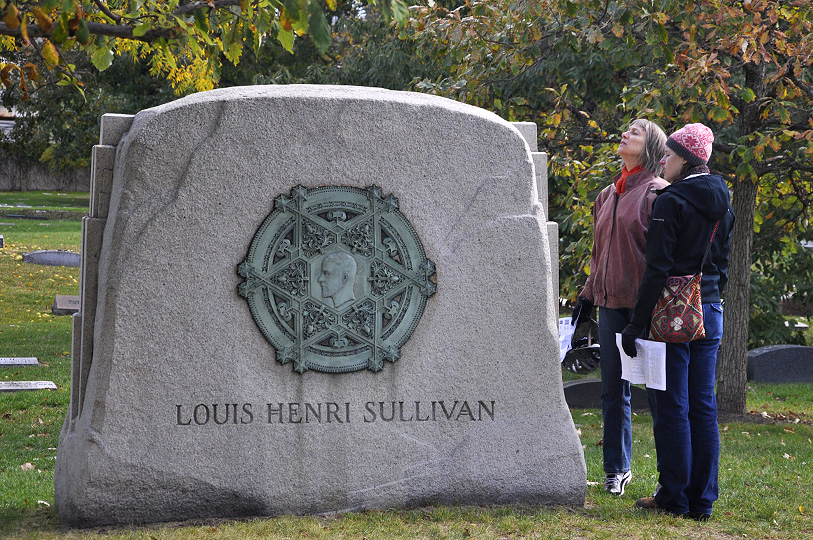 After a 20 year decline, he died poor and alone, in a Chicago hotel room on April 14, 1924.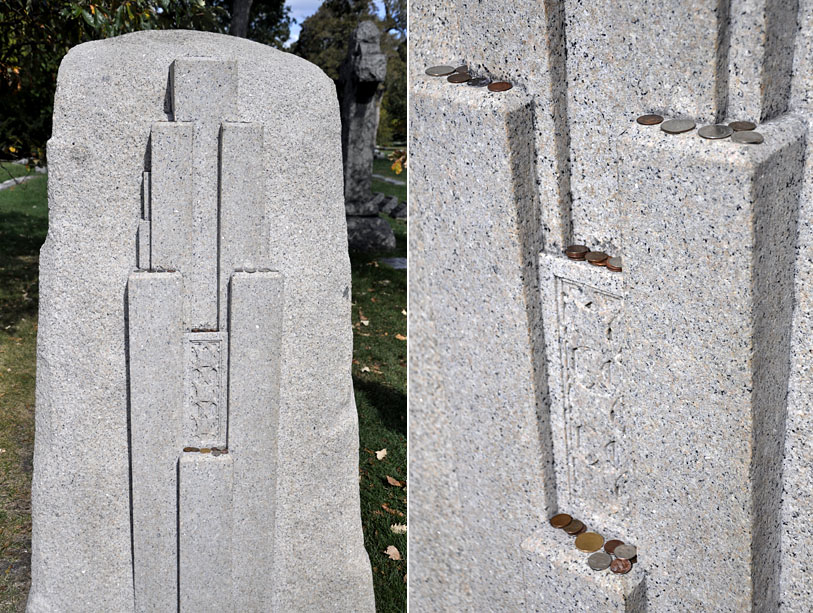 This monument was later erected in his honor by his friends.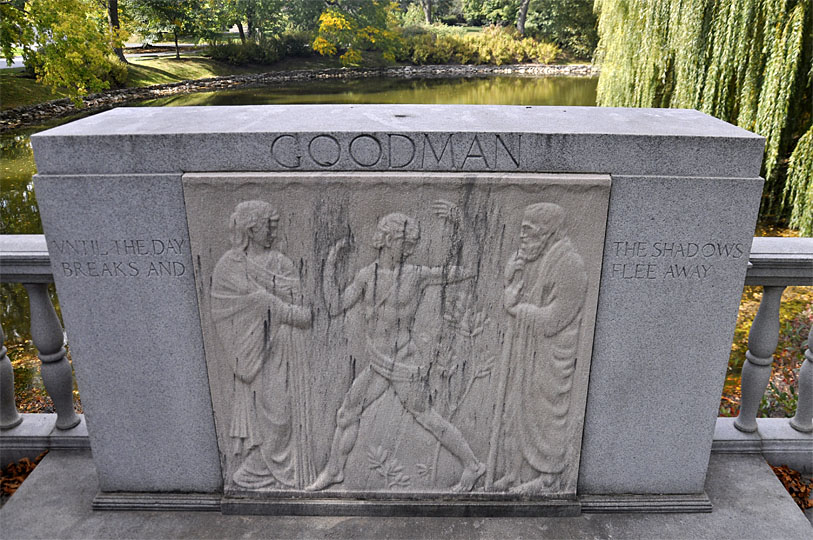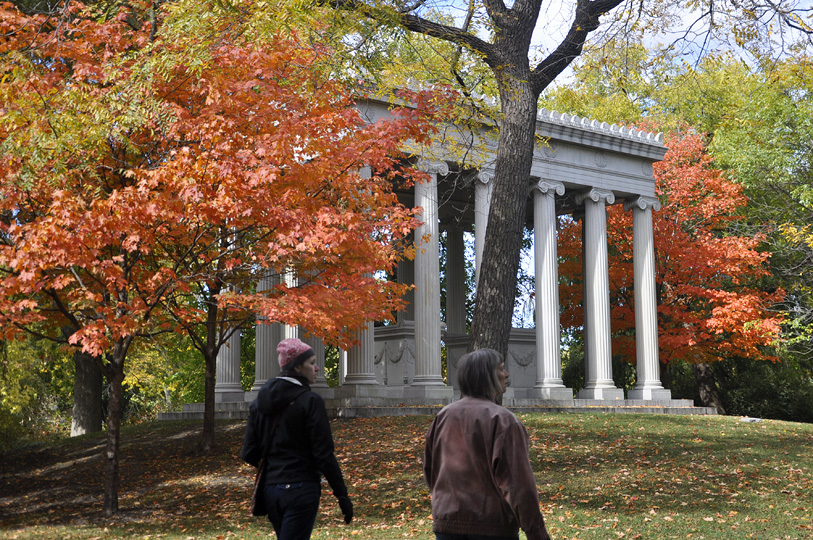 The extravagant resting place of Potter Palmer who developed much of State Street.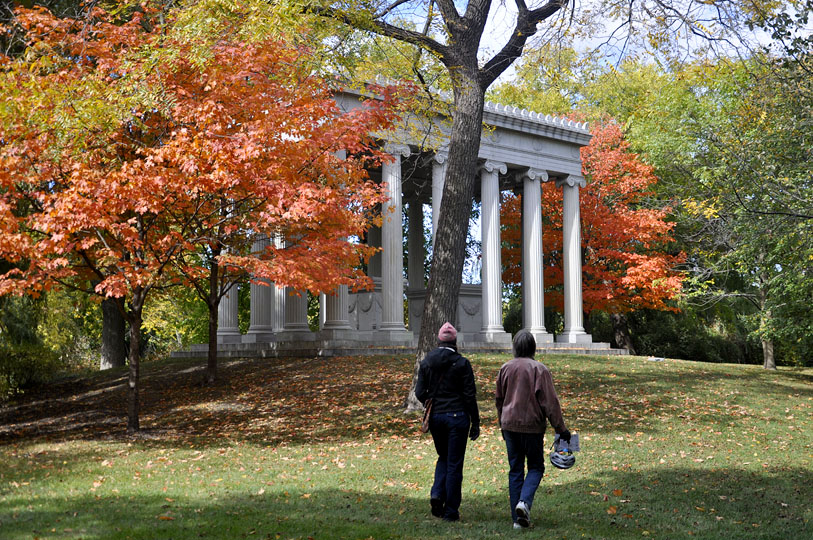 Palmer also pioneered the money-back guarantee and is buried in a Greek temple with the twin sarcophagi.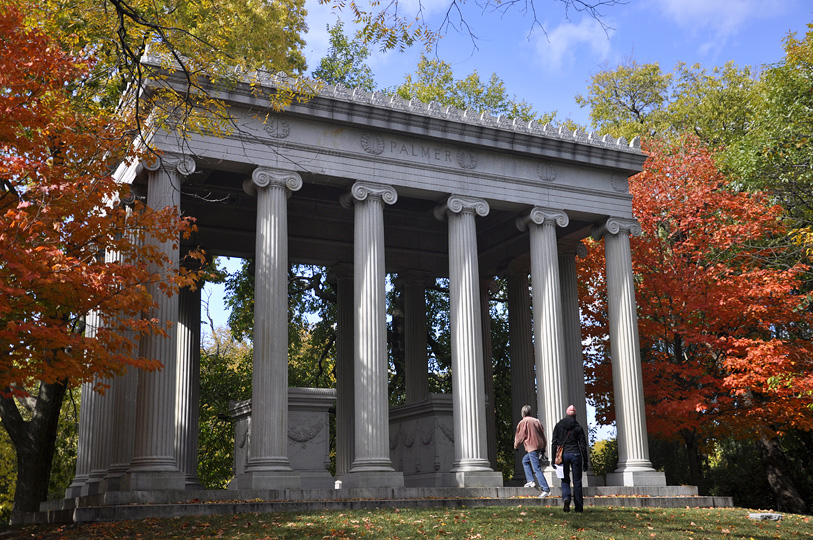 I assume Palmer would not have asked for his money back for his grand temple.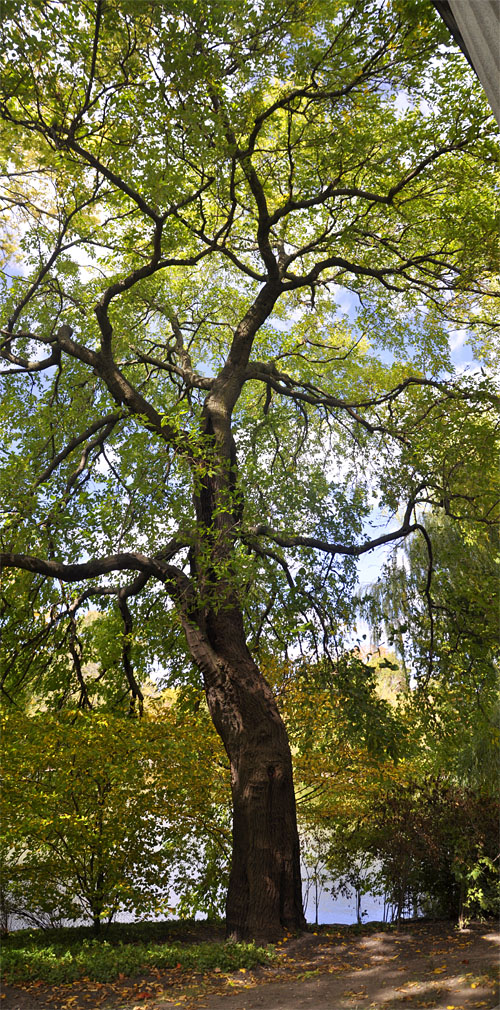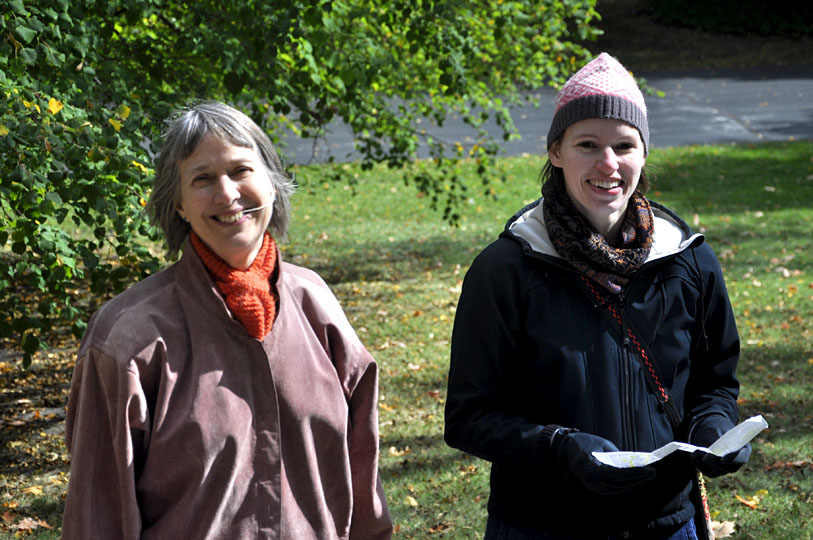 Pause for a couple smiles.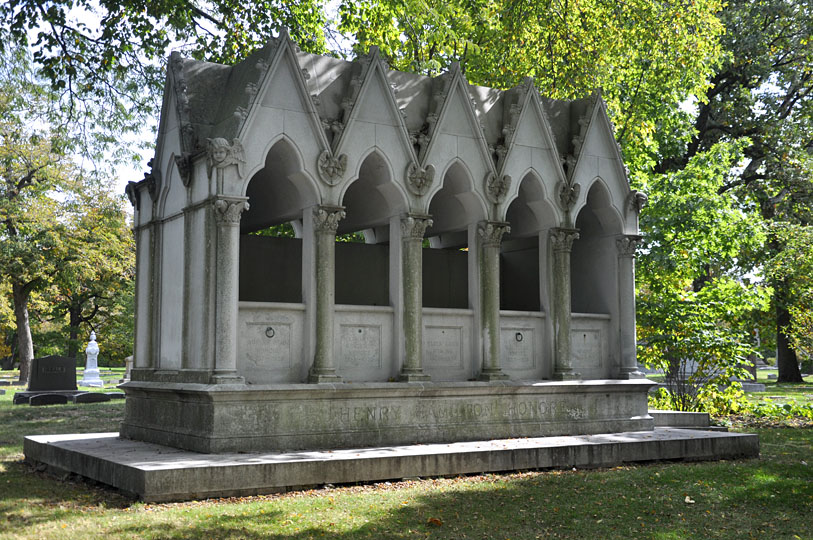 The French Gothic mausoleum of the Honore family.
Henry Honore's daughter, Bertha, married Potter Palmer, who's Greek temple is directly across the path.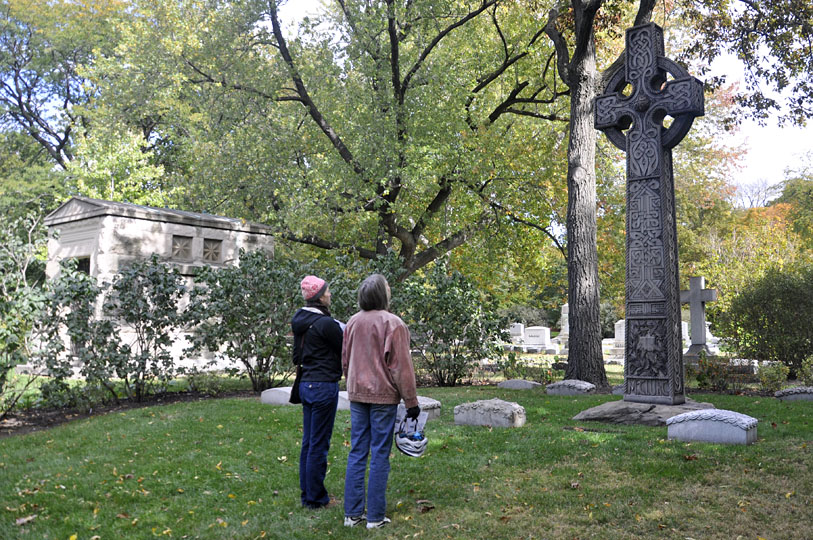 A. C. McClurg was a Chicago based publisher made famous by
their original publishing of the Tarzan of the Apes novels.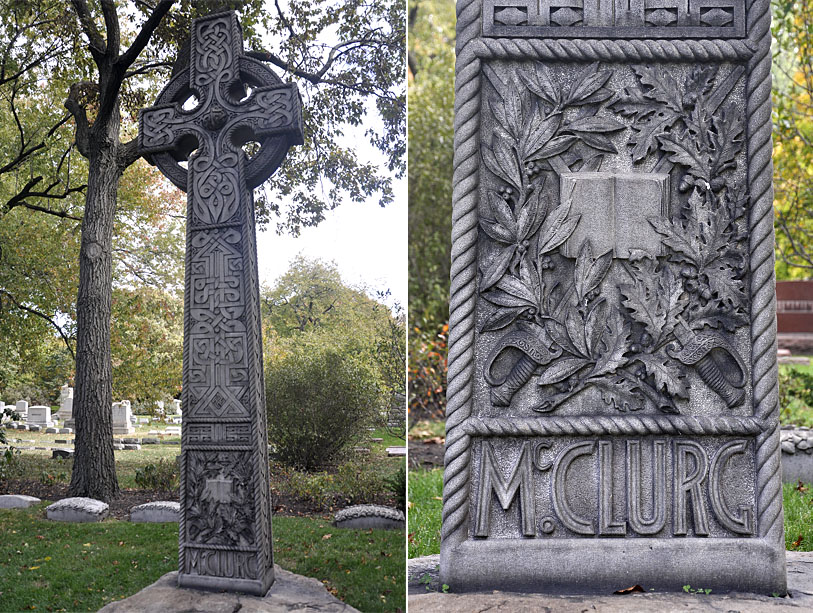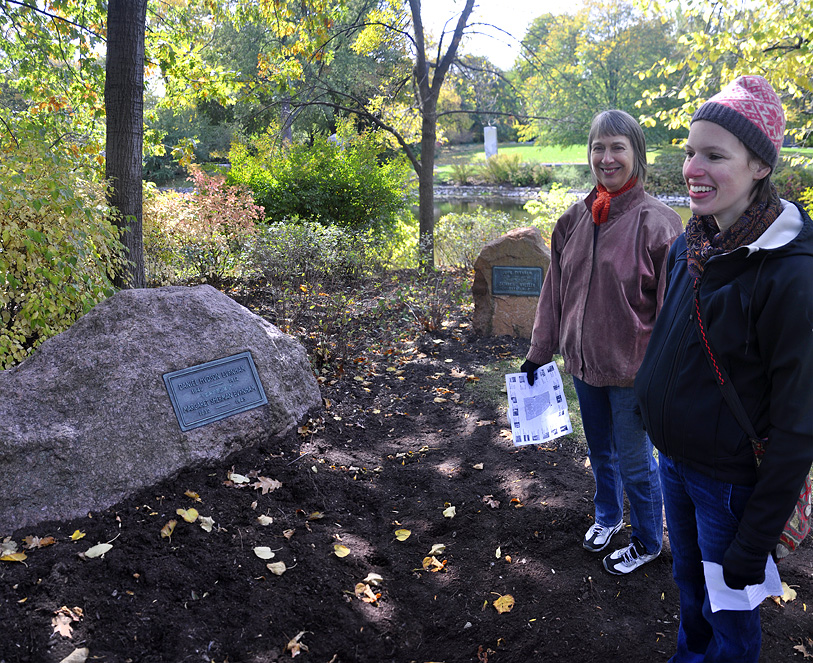 Daniel Burnham was chief of construction for the 1893 Columbian Exposition, and his Chicago Plan of 1909 is the reason that Chicago's lakefront has been preserved for the enjoyment and recreational use of its citizens and tourists.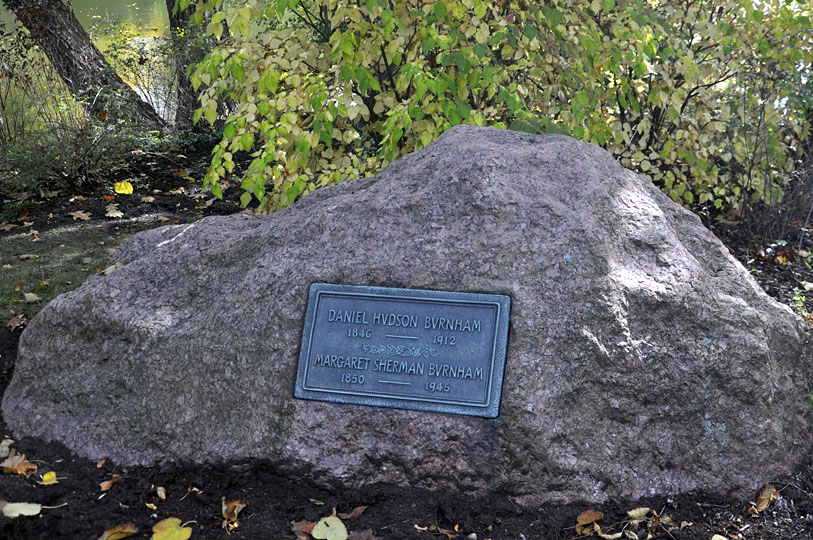 Burnham is buried on a private island with his family.
The Getty Tomb was designed by Louis Sullivan for
lumber baron, Henry Harrison Getty.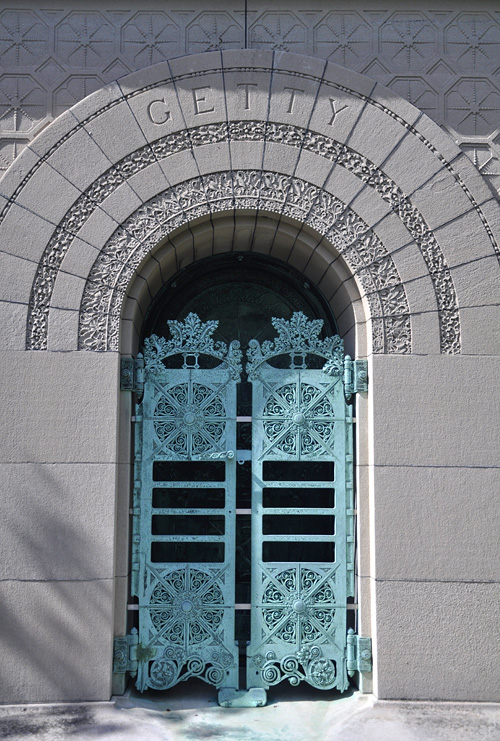 It was designated a city landmark in 1971.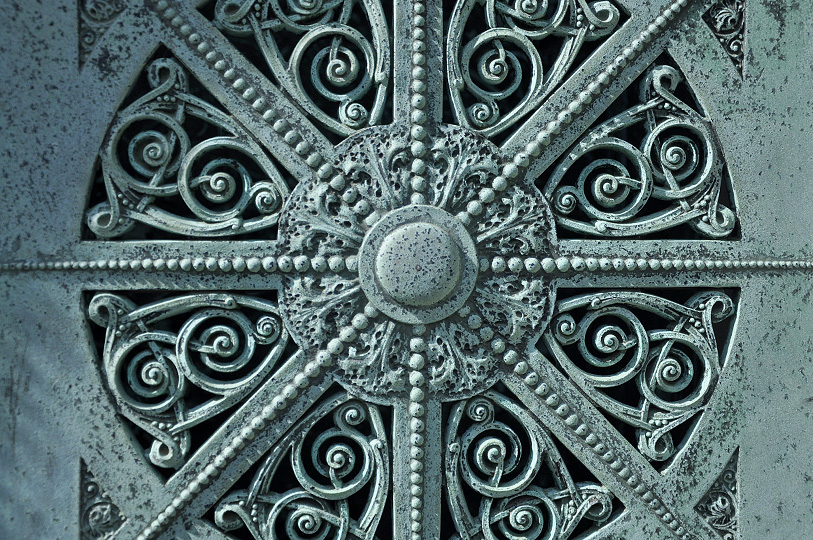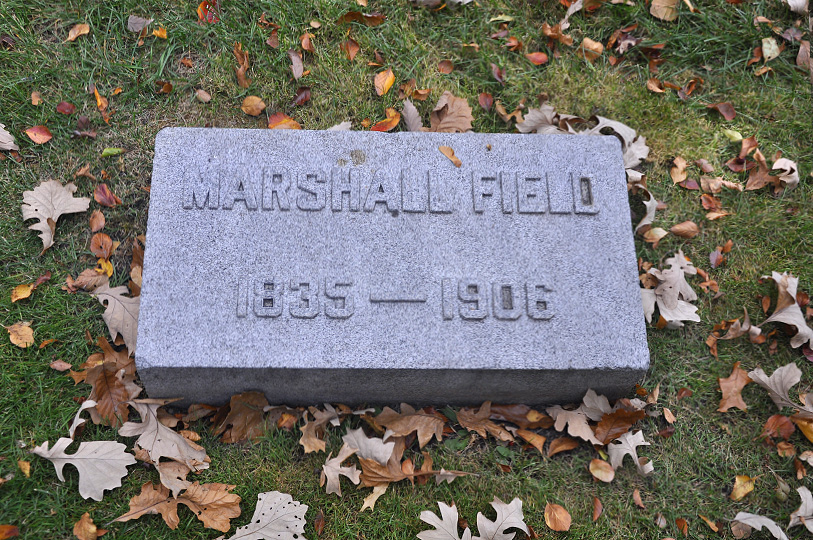 Marshall Field died in New York City on January 16, 1906 at age 71 from a case of pneumonia contracted while playing golf on New Year's Day with his nephew, his secretary and Abraham Lincoln's oldest son Robert Todd.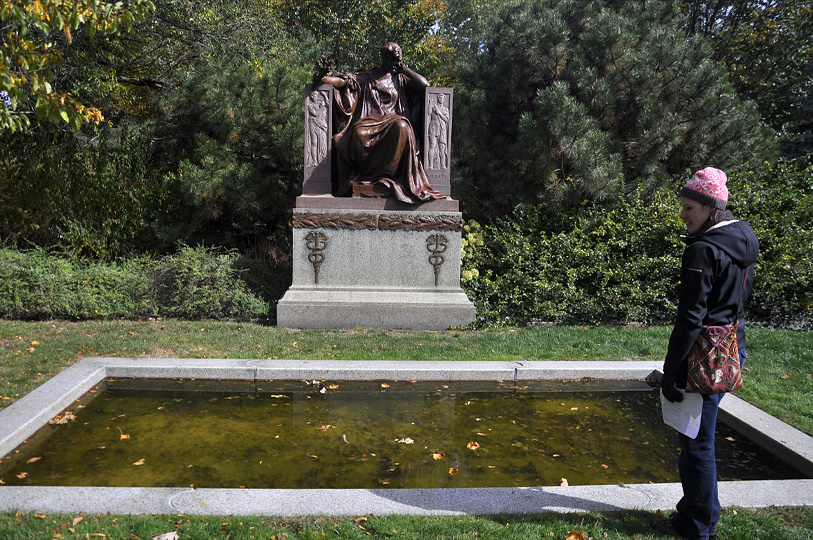 Field's memorial was designed by the architect and sculptor who later designed the Lincoln Memorial.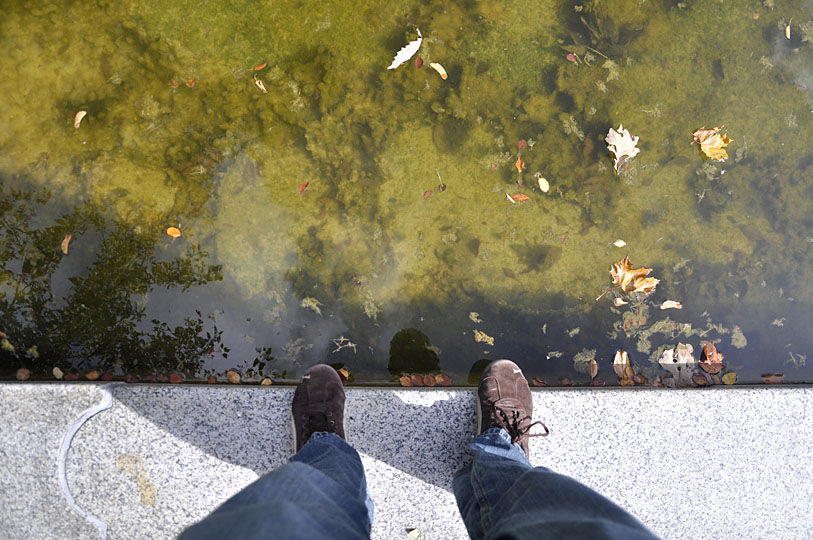 I apparently fell into this reflecting pool when I visited Field's memorial at a very young age.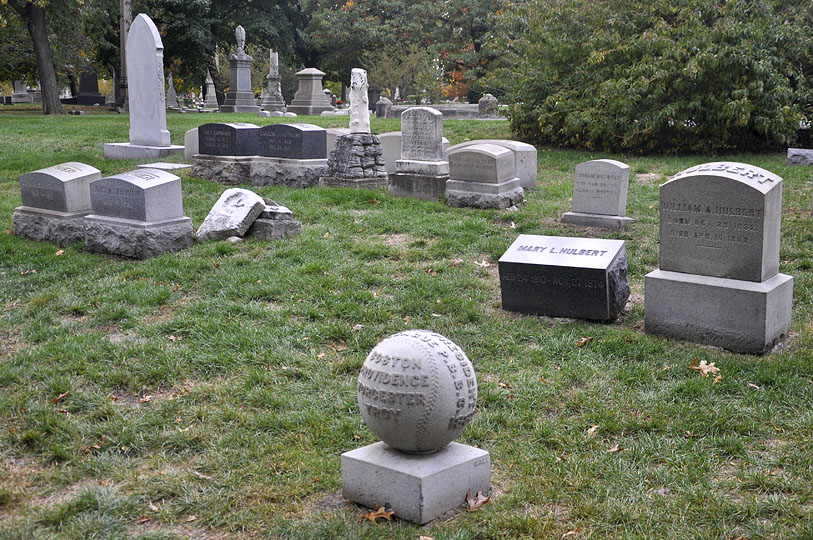 The baseball marks the grave of William Hulbert, who founded
the National League of Professional Baseball Clubs.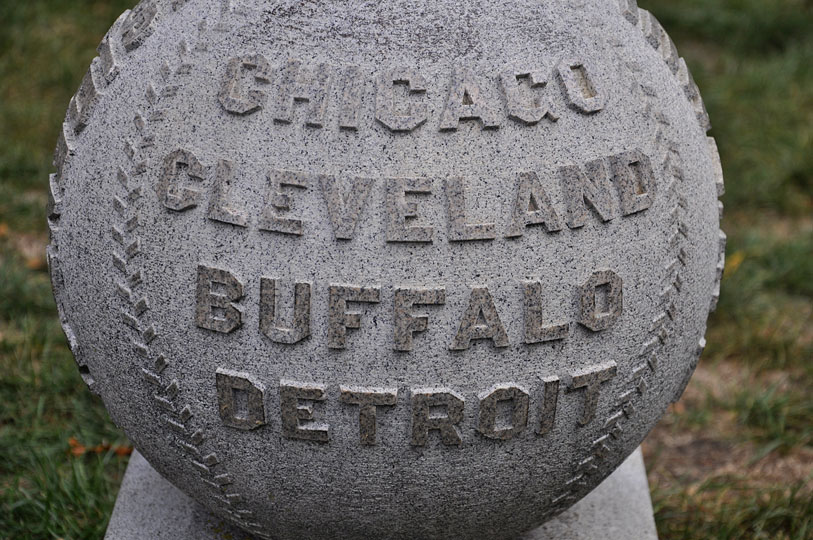 Hulbert became a stockholder in the Chicago White Stockings in 1870 and its president in 1875. The following year, he organized the National League with the 8 teams whose names are on the stone baseball. The White Stockings won the league's first championship, and their descendants, the Cubs, play in Wrigley Field.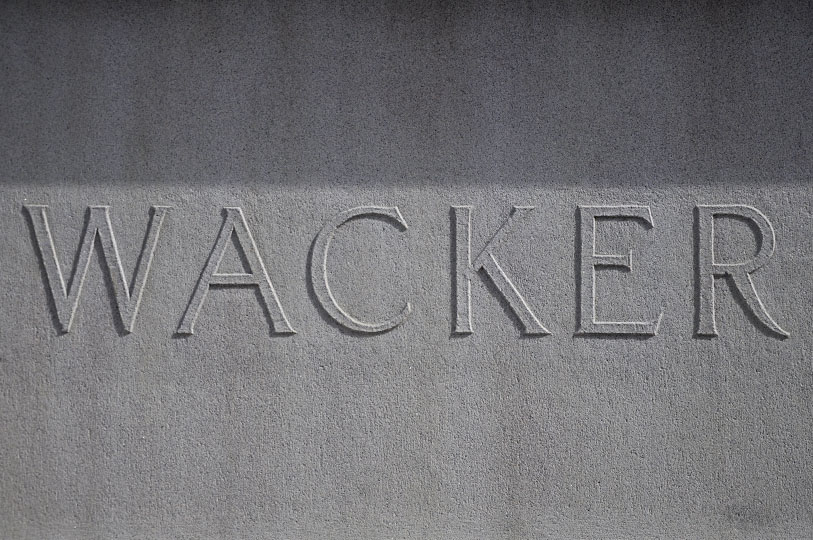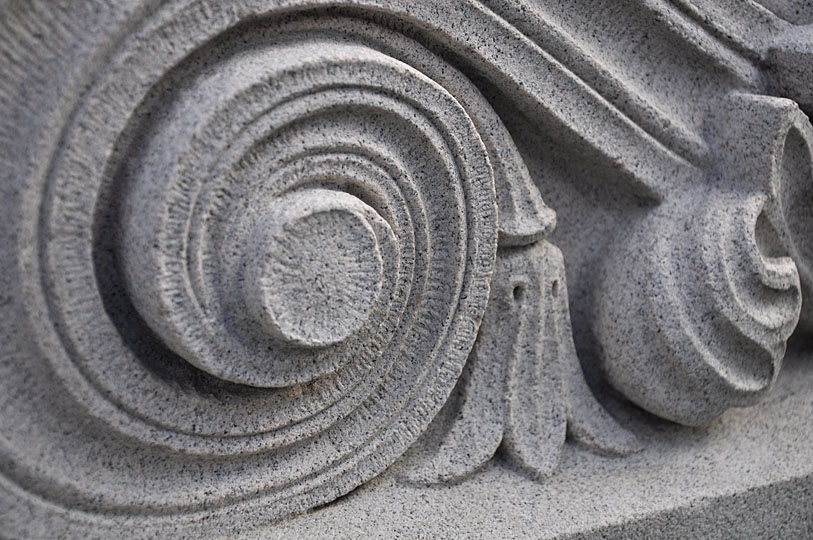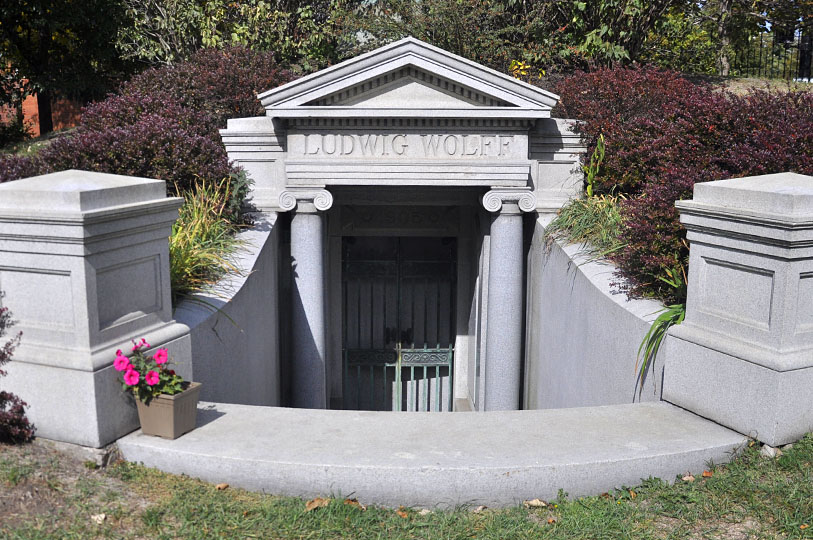 According to legend, Wolff's tomb is supposedly
guarded by the apparition of a green-eyed dog that howls at the moon.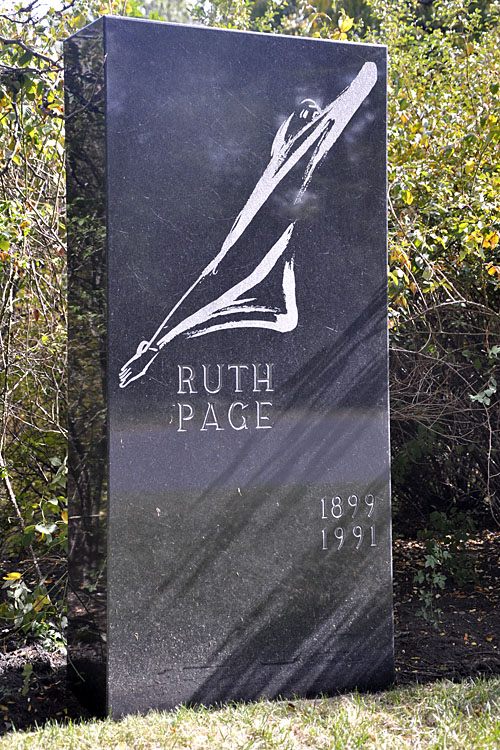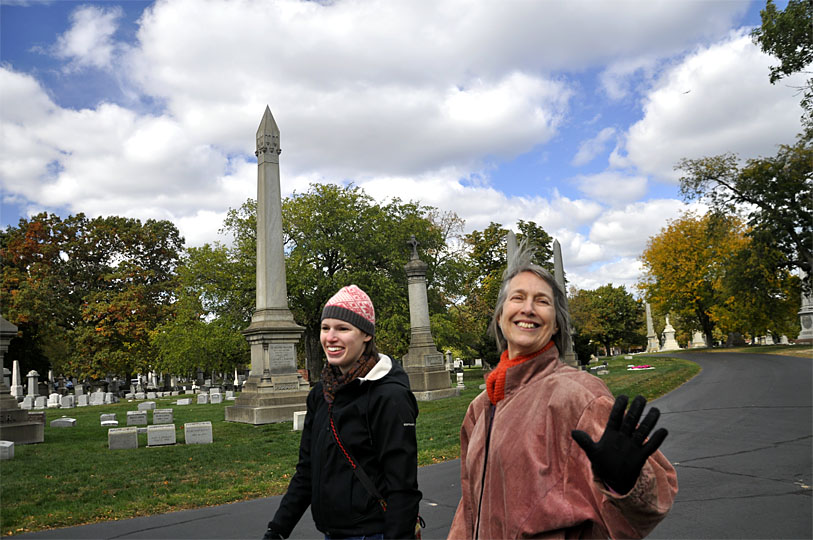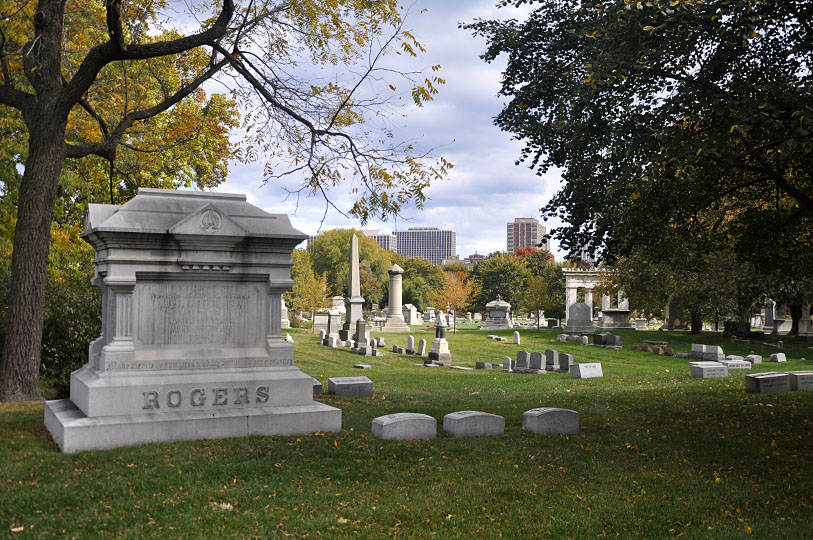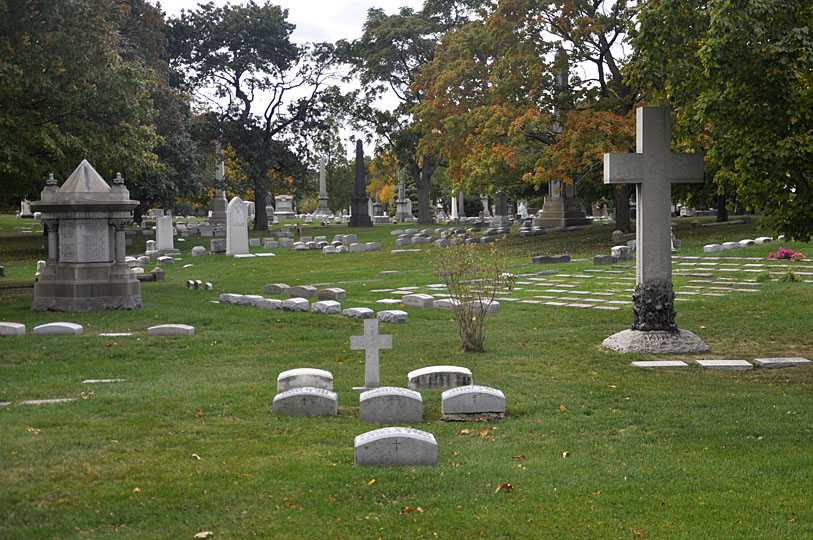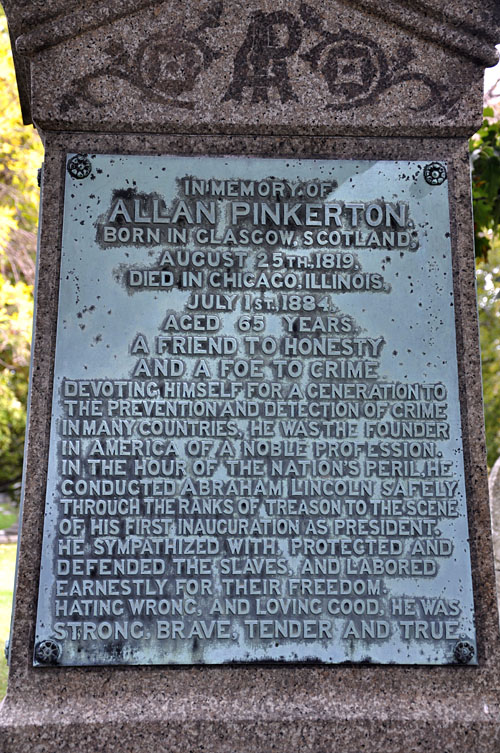 "A friend to honesty and a foe to crime."

Allan Pinkerton was a Scottish American detective and spy,
best known for creating the Pinkerton National Detective Agency.

He became Chicago's first detective in 1849.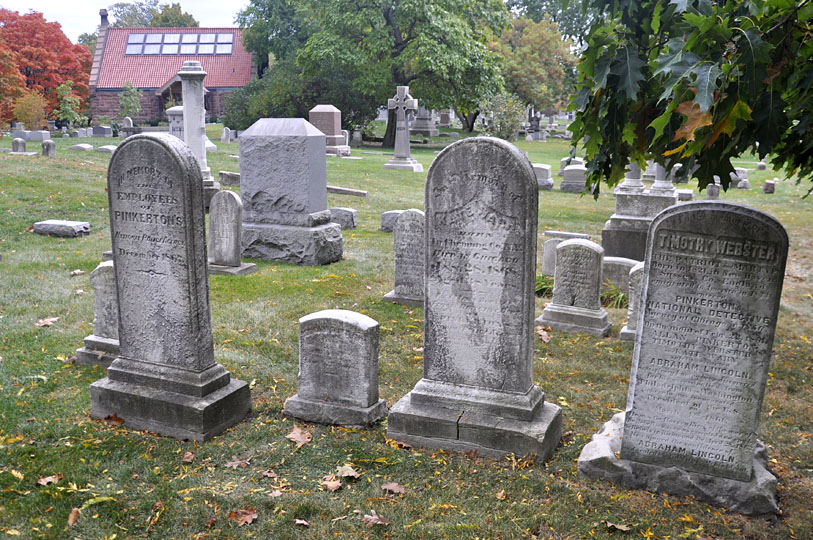 Pinkerton once foiled an attempted assasination of Abraham Lincoln on the way to his inauguration.
Nearby are the graves of his detectives who died in service.

Pinkerton's business insignia was a wide open eye with the caption "We never sleep."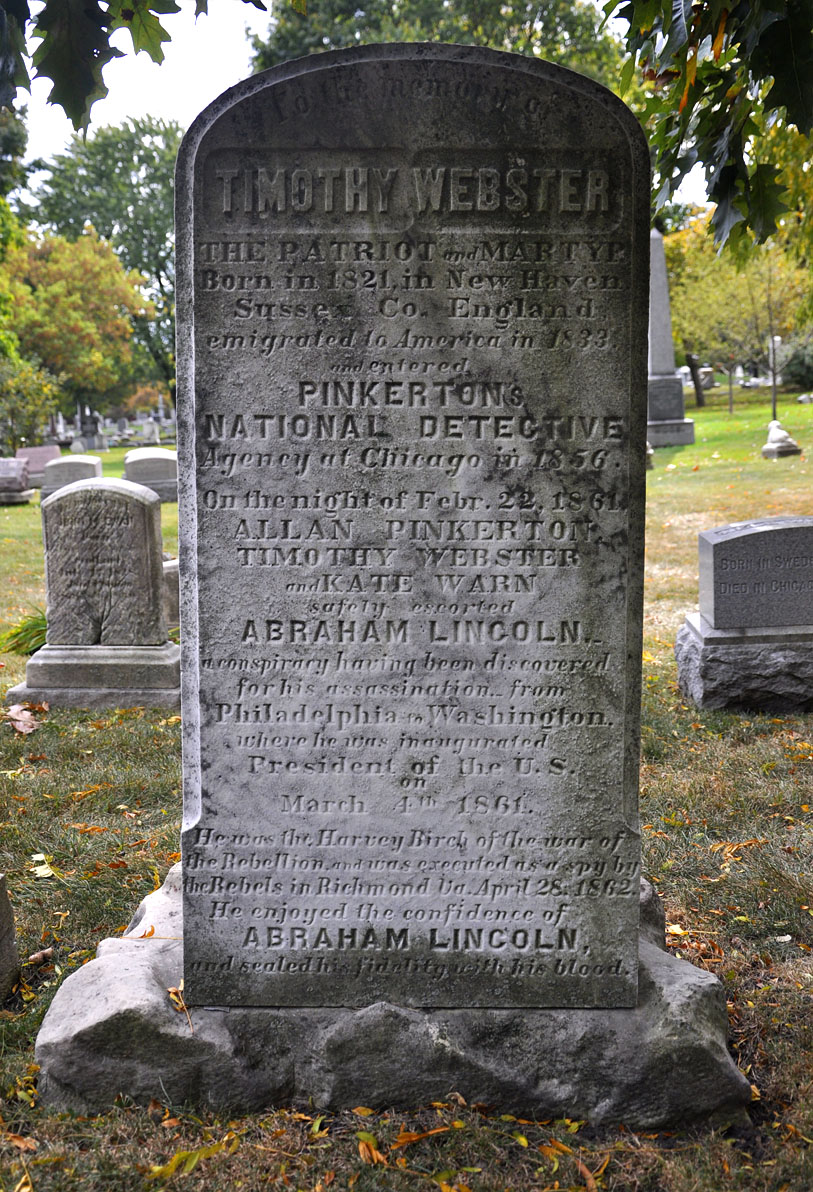 "He enjoyed the confidence of Abraham Lincoln and sealed his fidelity with his blood."

Near Pinkerton's grave is a memorial stone for Timothy Webster and Kate Warn's grave. Kate, the nation's first female private eye, and Timothy helped Pinkerton escort Abraham Lincoln to his inauguration. Webster, in Pinkerton's secret service, was hanged by the Confederacy as a spy during the Civil War.