Rock Climbing at Devil's Lake, Fall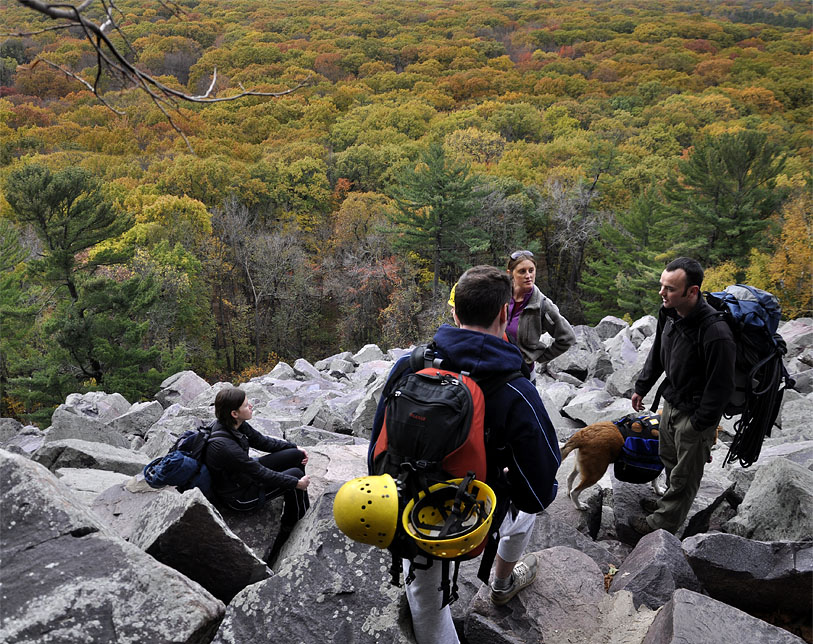 A short hike up to the East Bluff of Devil's Lake.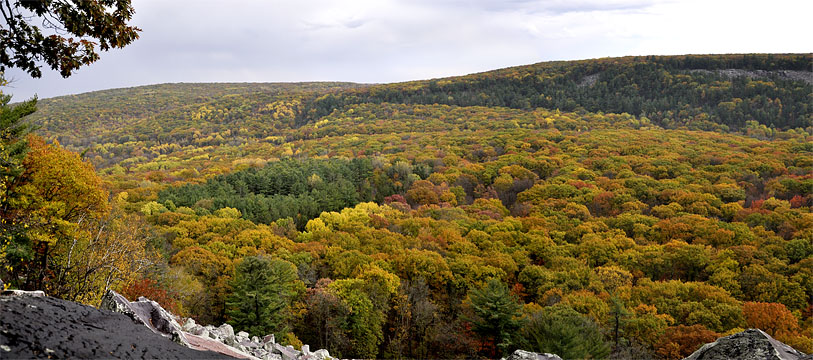 The autumn leaves were at their peak.

[+] Enlarge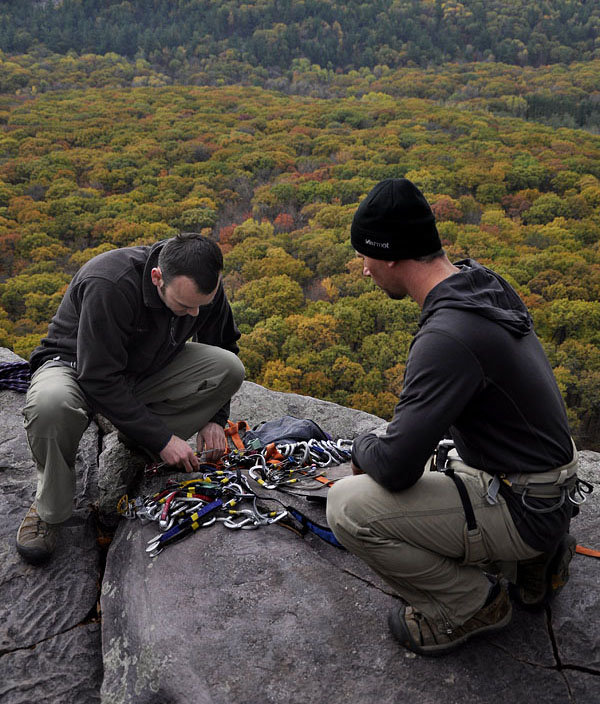 Our guides Nick and Blaze set up our routes.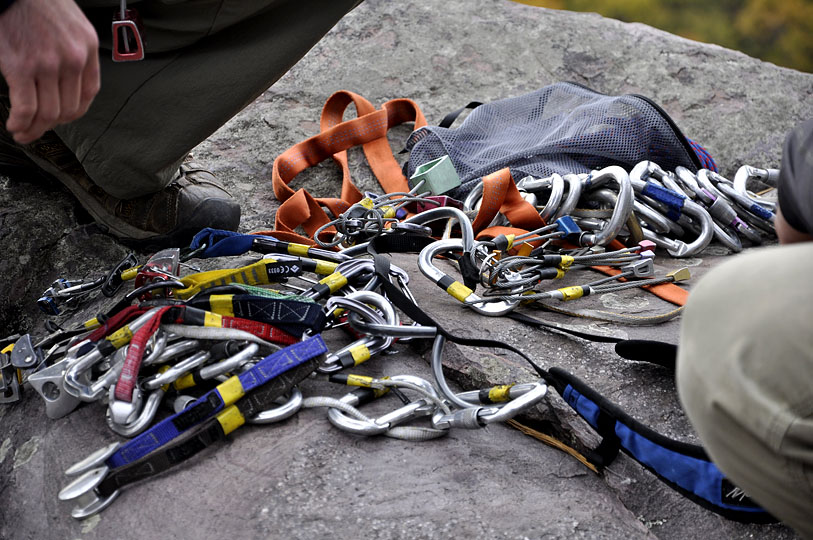 Their bag of goodies includes more gear than I know how to use properly.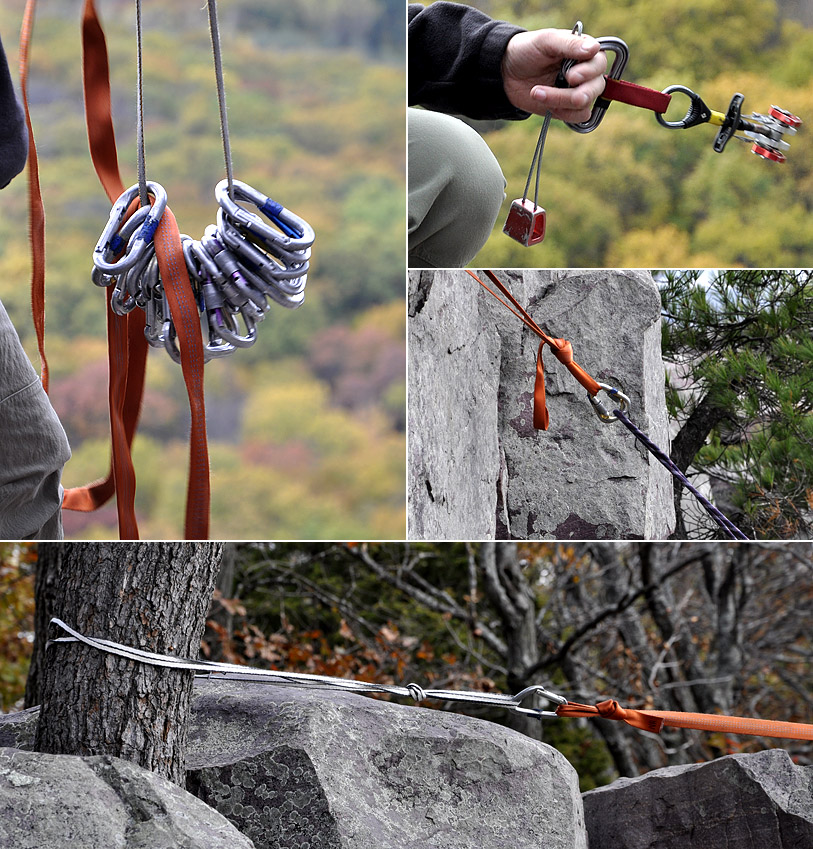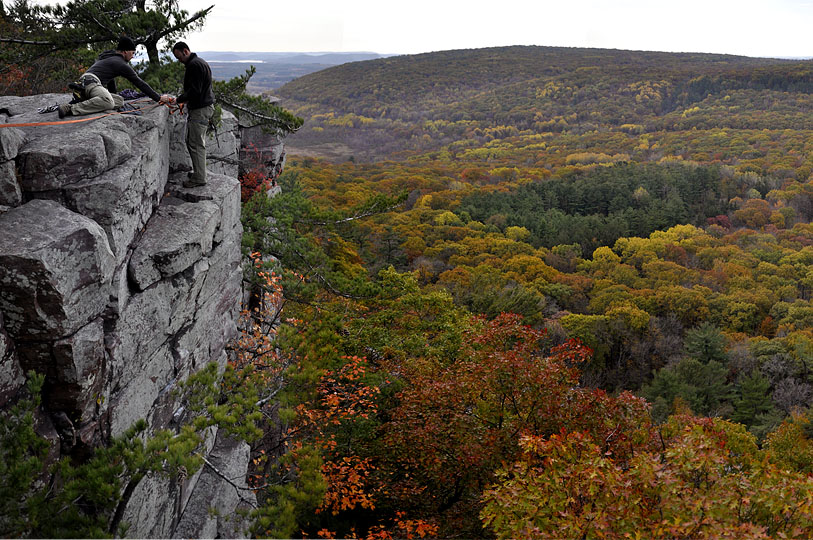 With sheer drop-offs like these, I'm happy to have certified professionals set things up.
While the experts anchor our routes, I sit back and enjoy the view.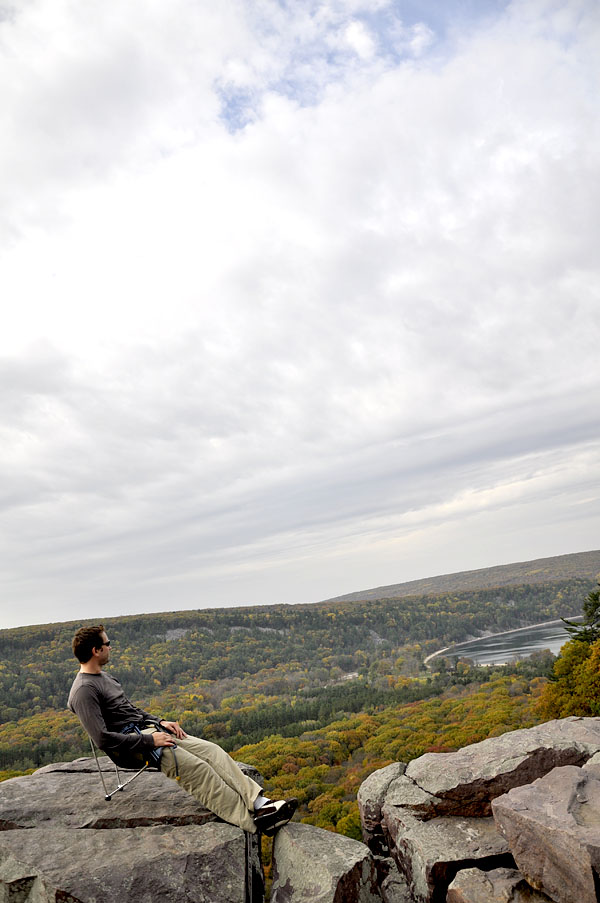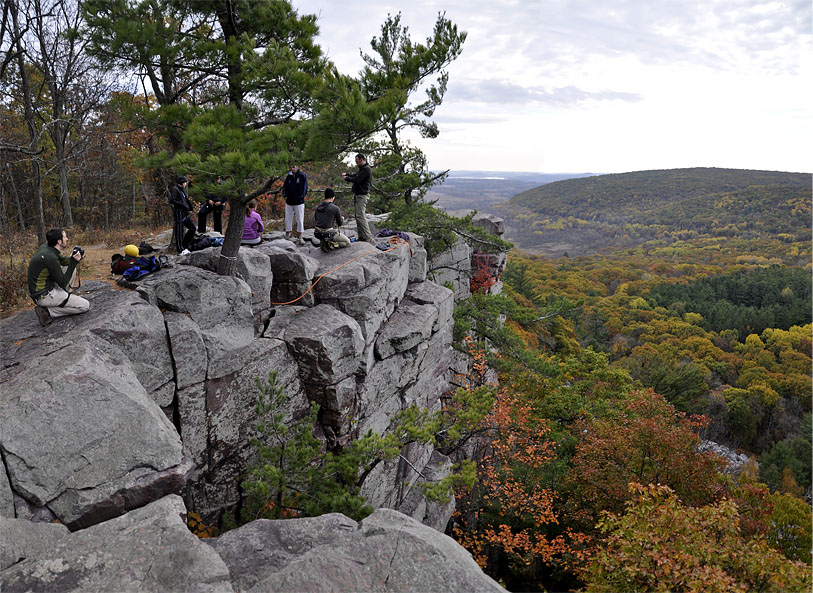 [+] Enlarge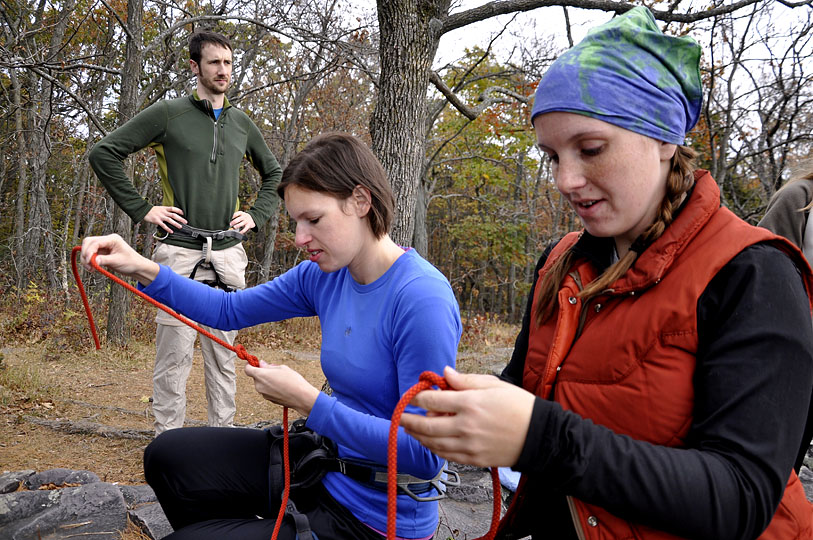 Kate and Claire practice their knots.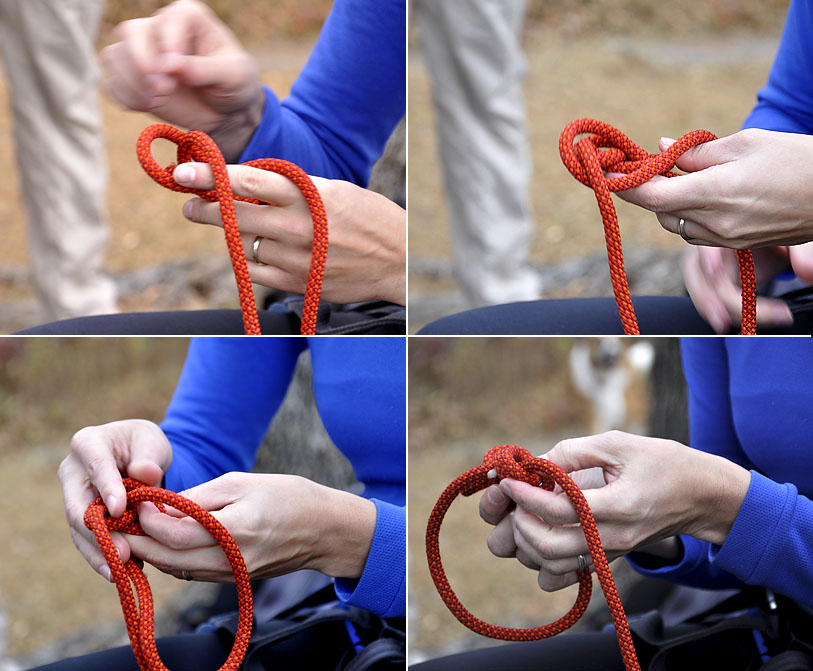 "Choke the ghost and the punch it in the face!"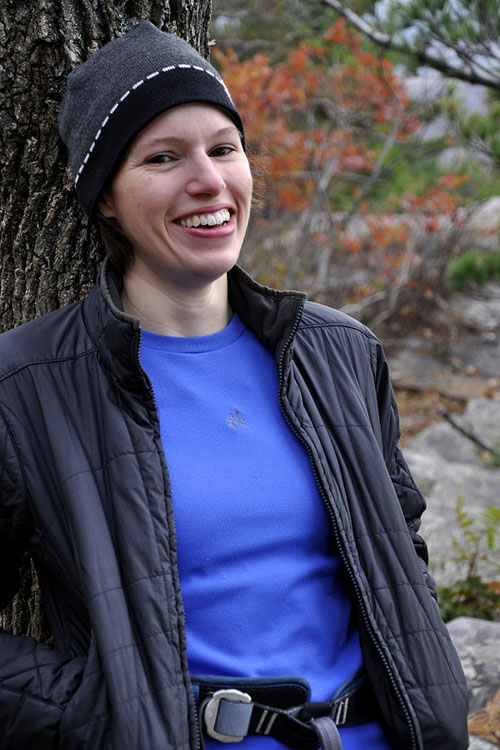 I caught Kate being a little knotty.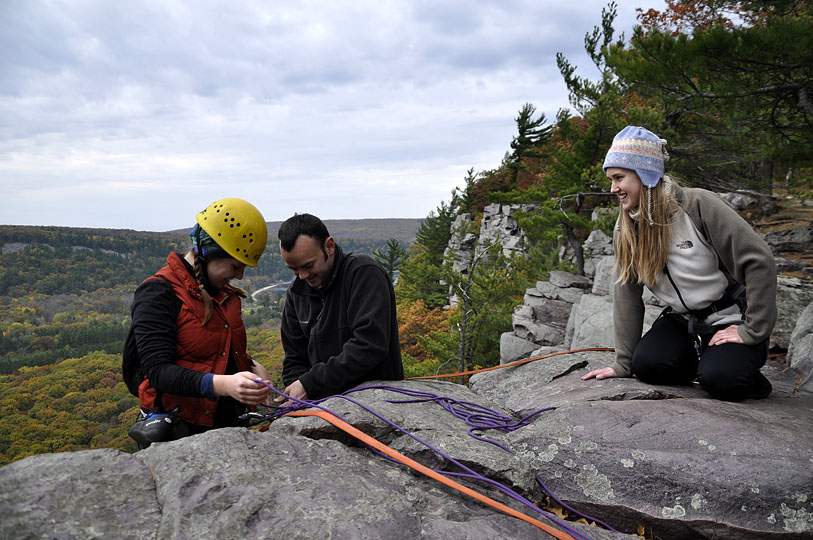 We take turns rappelling down.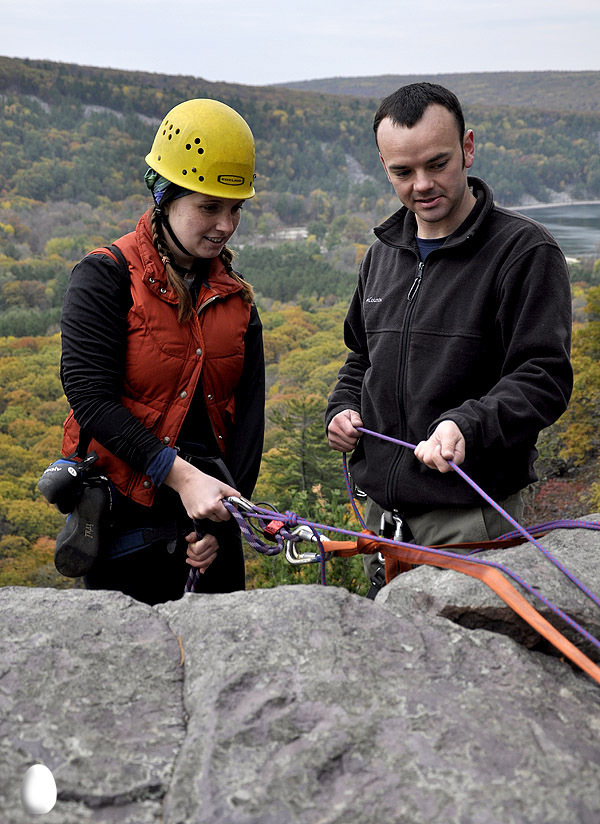 Just lean back and relax... and try not to look down.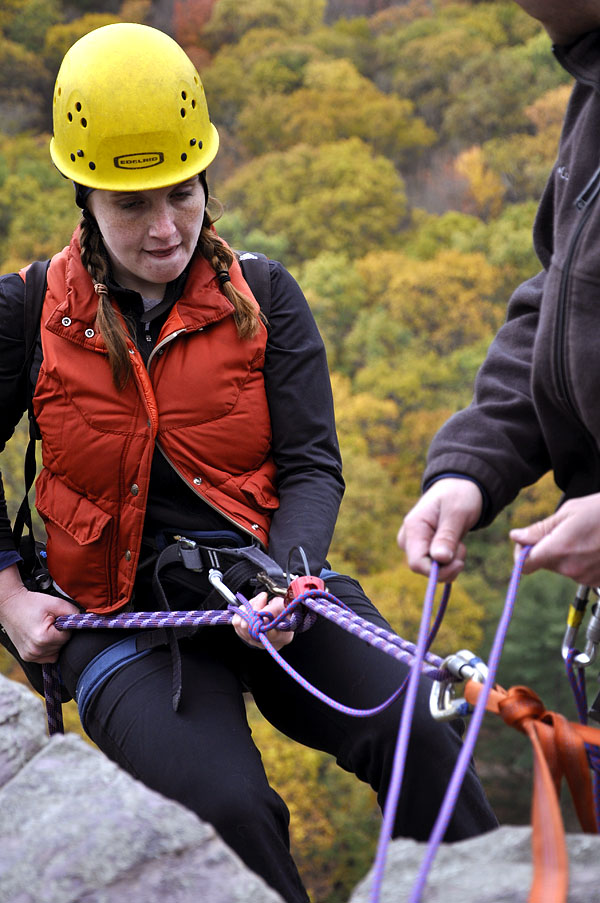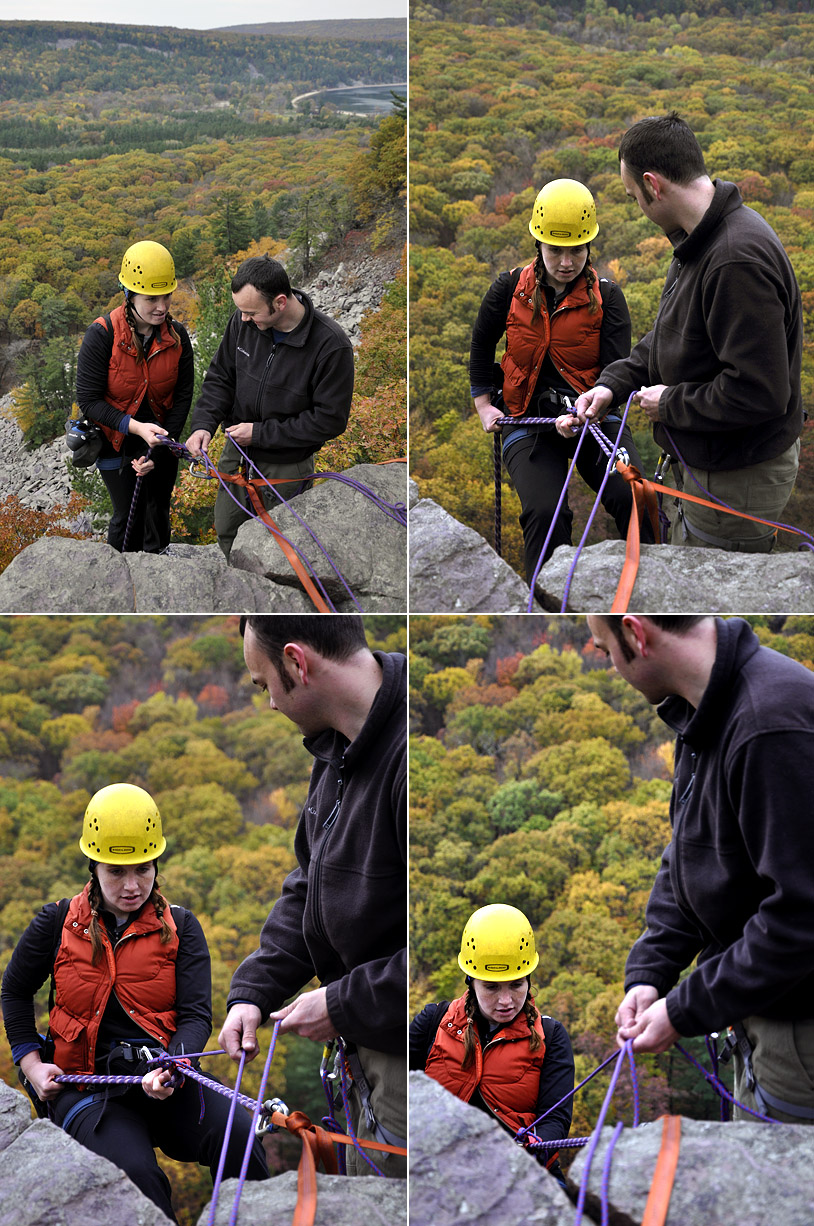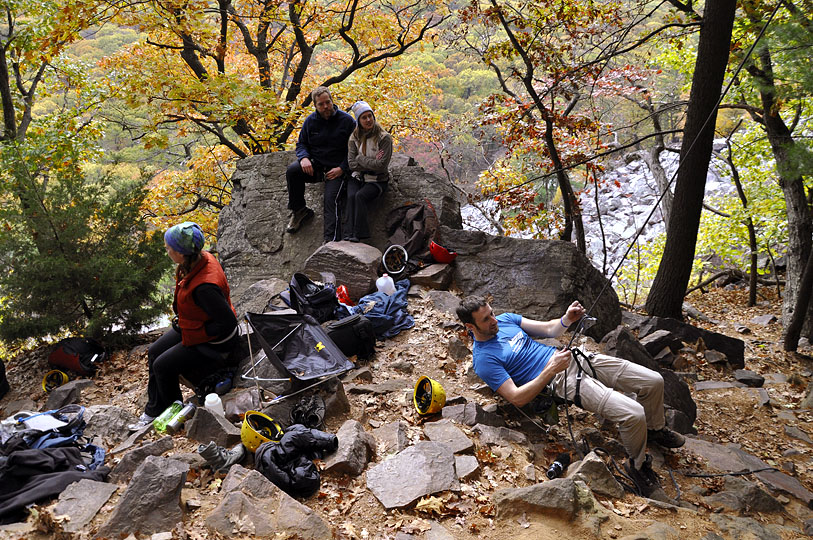 Down at the base, we make our home for the rest of the afternoon.
Crowe demonstrates how comfortable our new chairs are while on belay.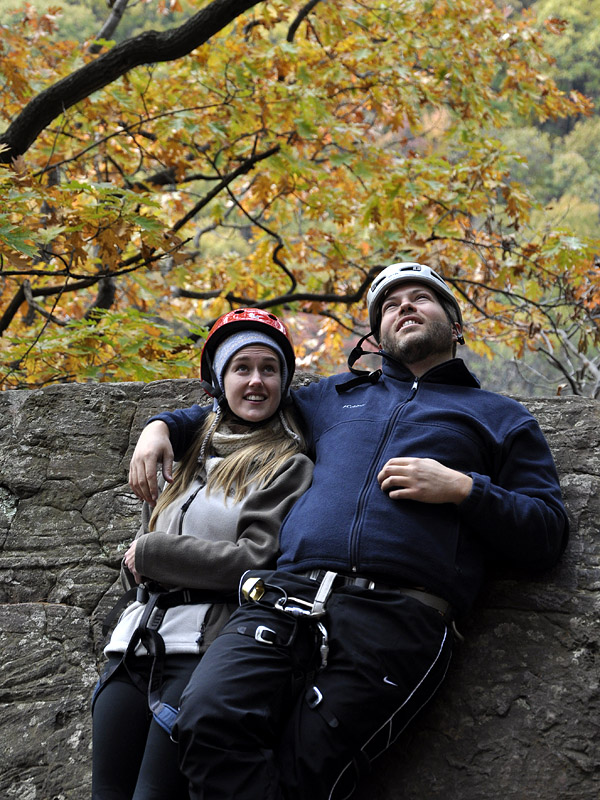 Angela and Andy look pretty relaxed as they look on.
The Grotto
5.4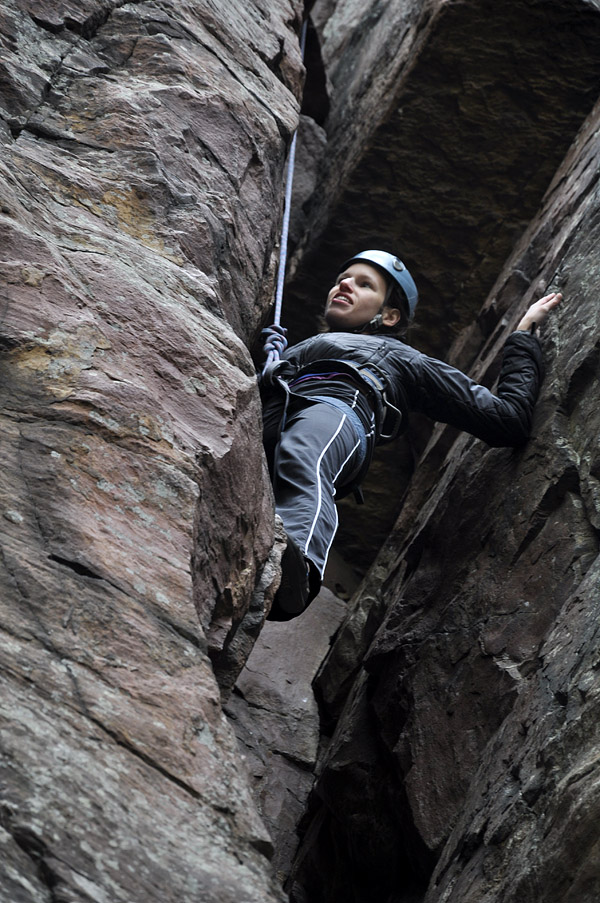 Kate inches herself up The Grotto.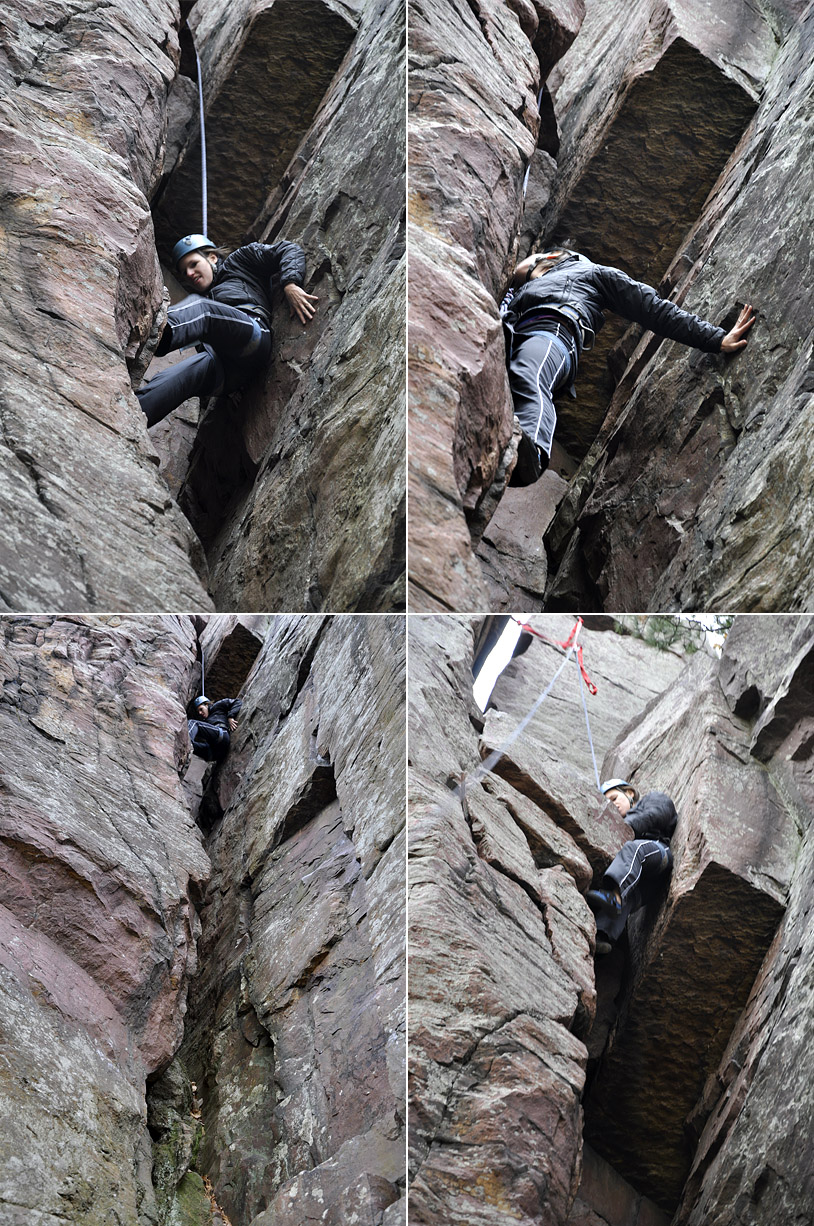 Up she goes through the chimney stack!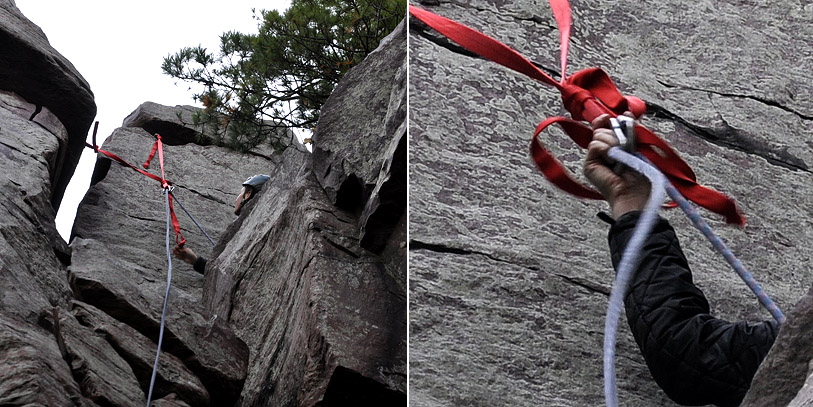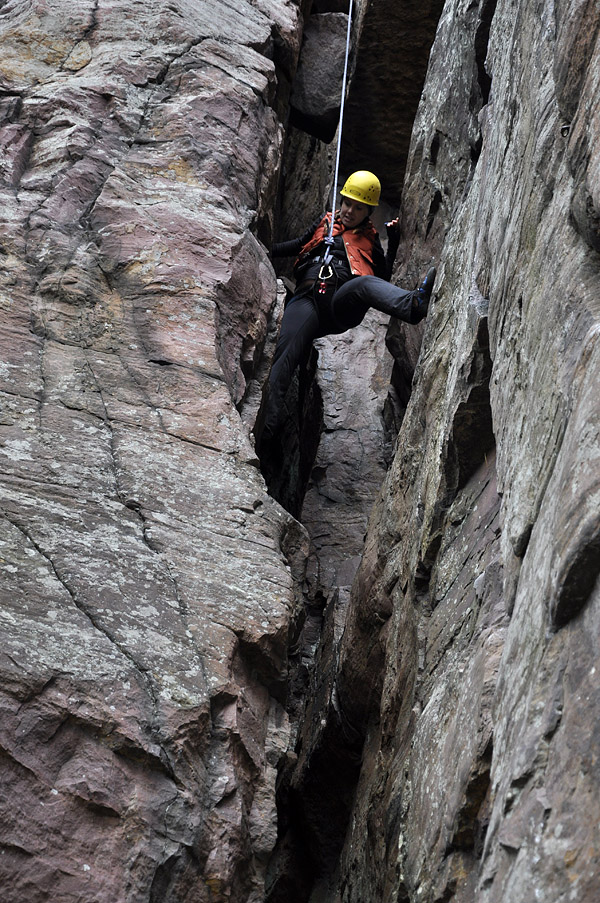 Claire with some nice moves.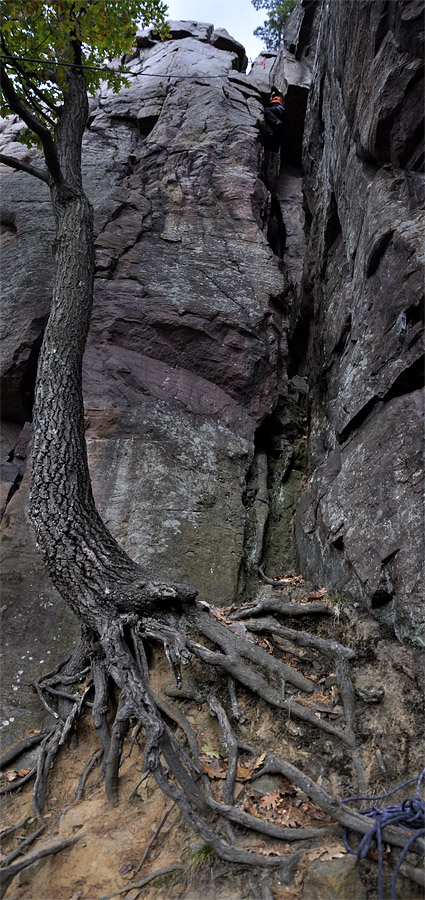 [+] Enlarge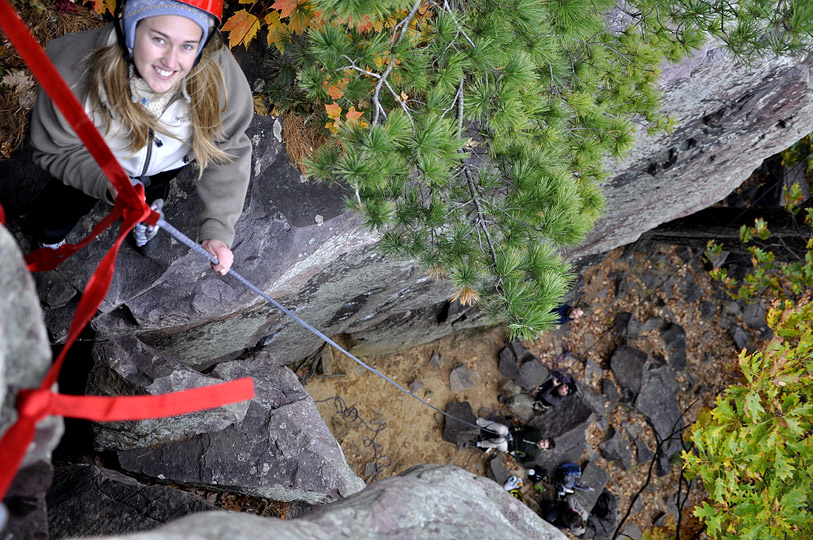 Angela crushes her first climb!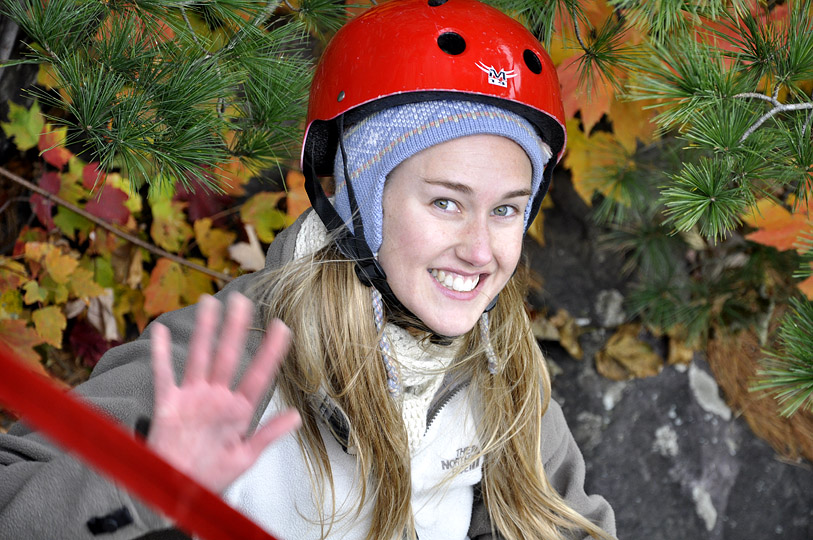 Hi there!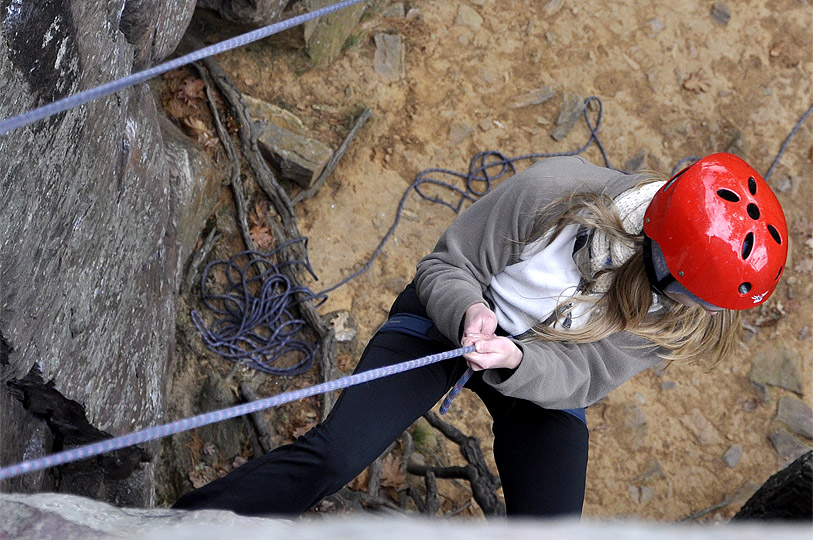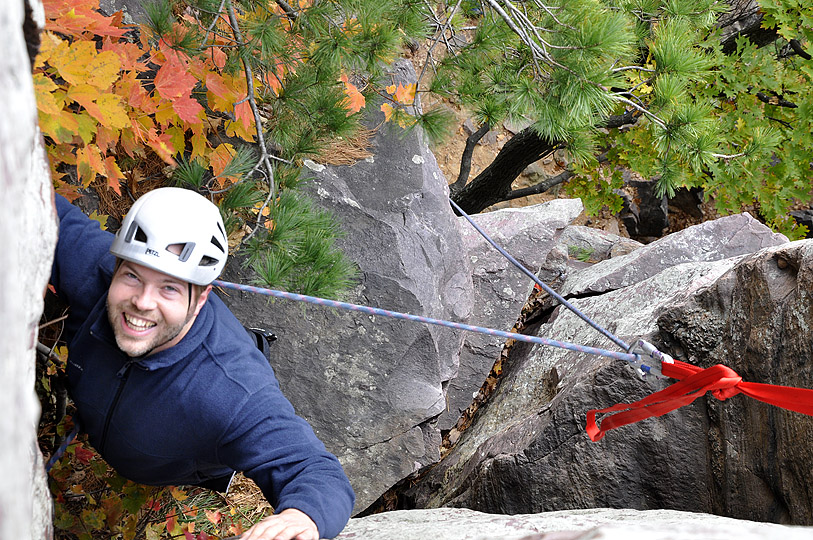 Welcome to the top, Andy.
Full Stop
5.6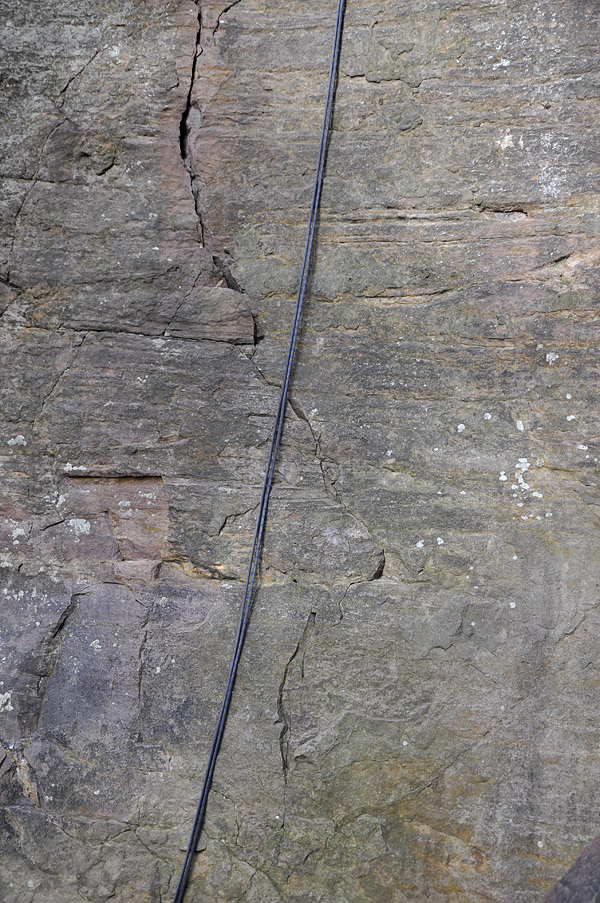 The first 20 feet of Full Stop look somewhat daunting.
However, there are tons of possibilities here.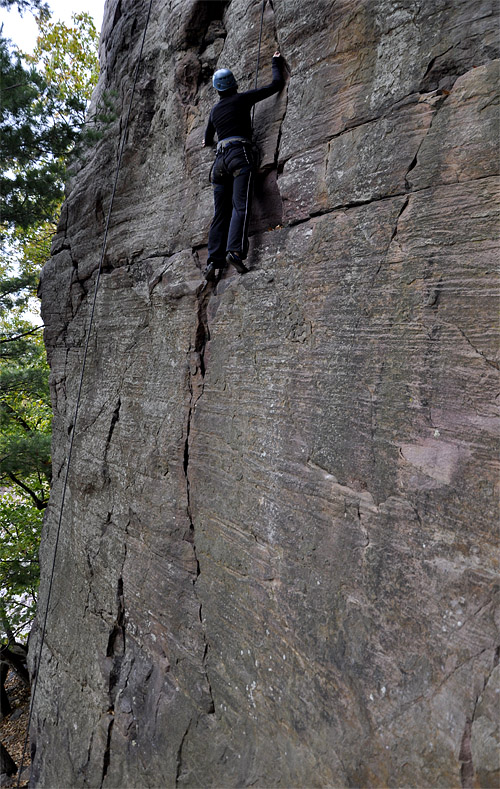 Kate does a good job making use of several of them.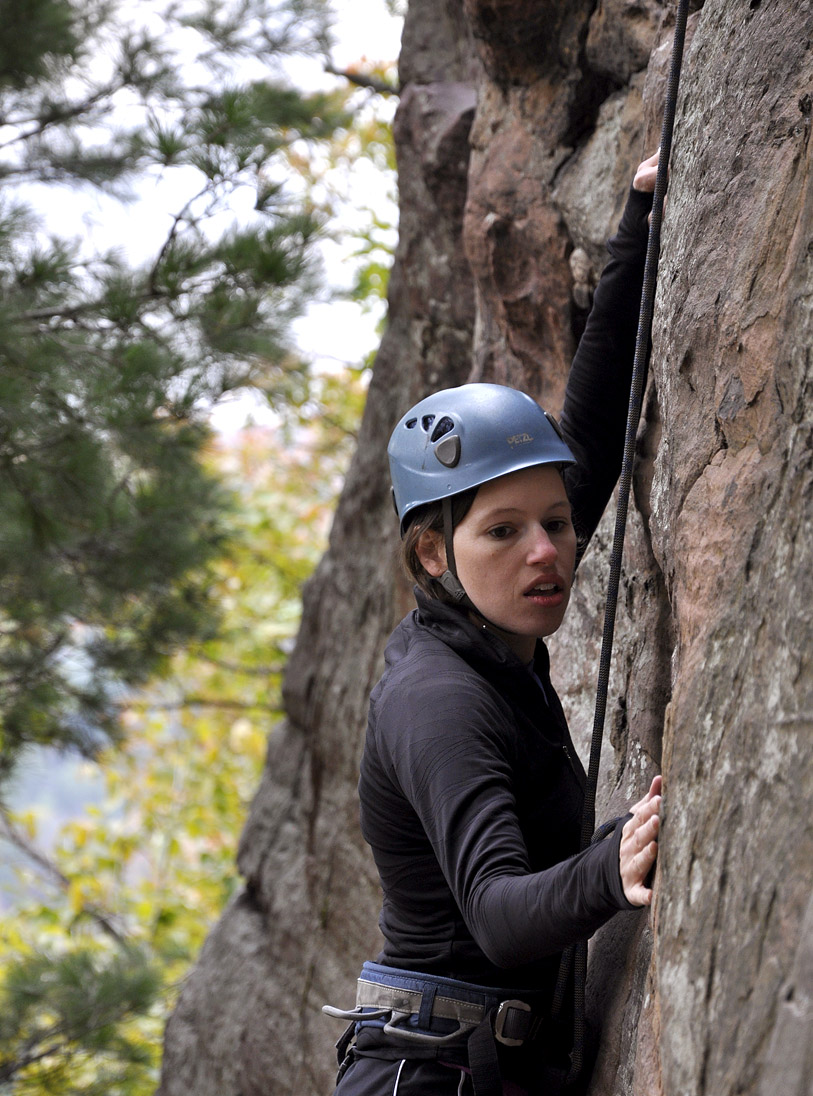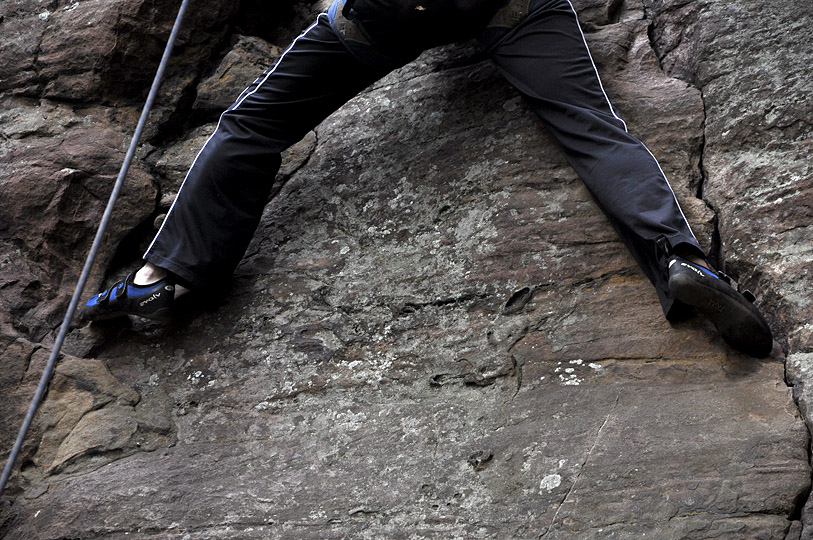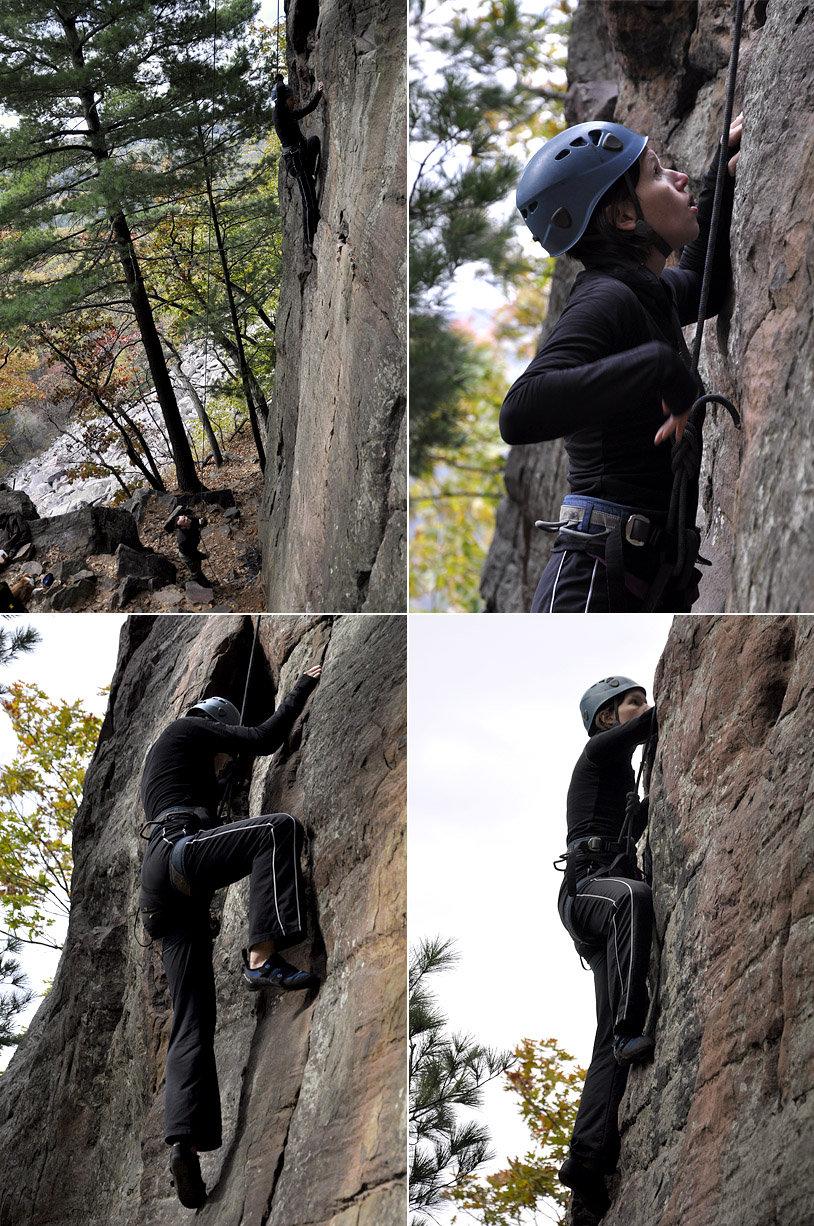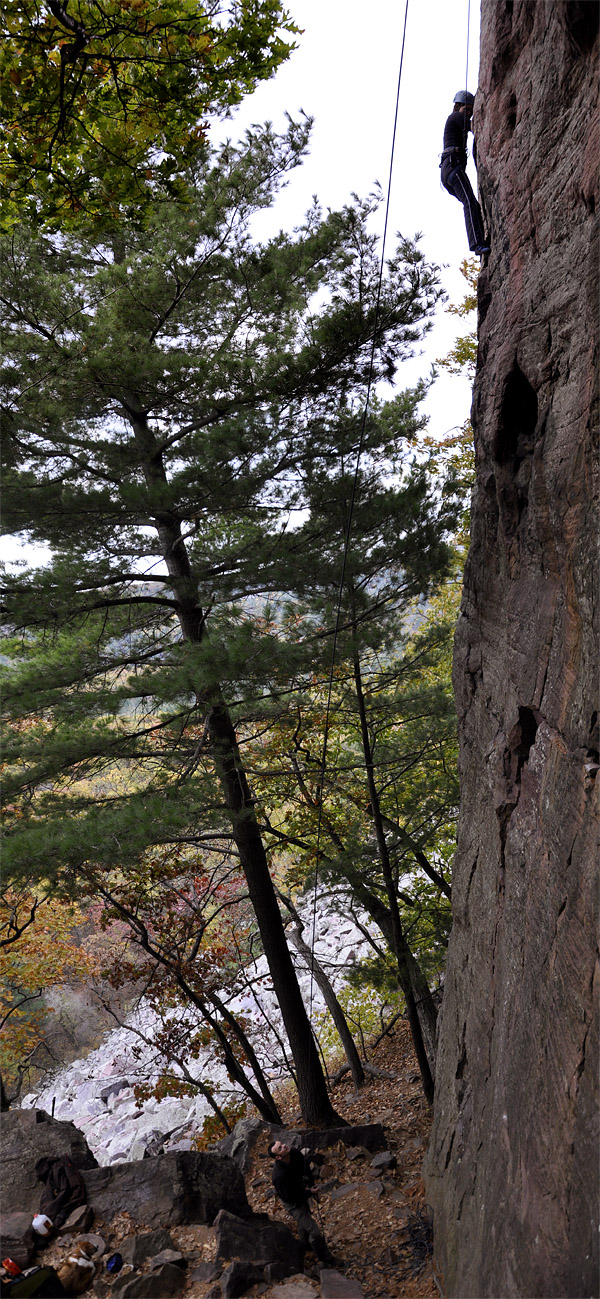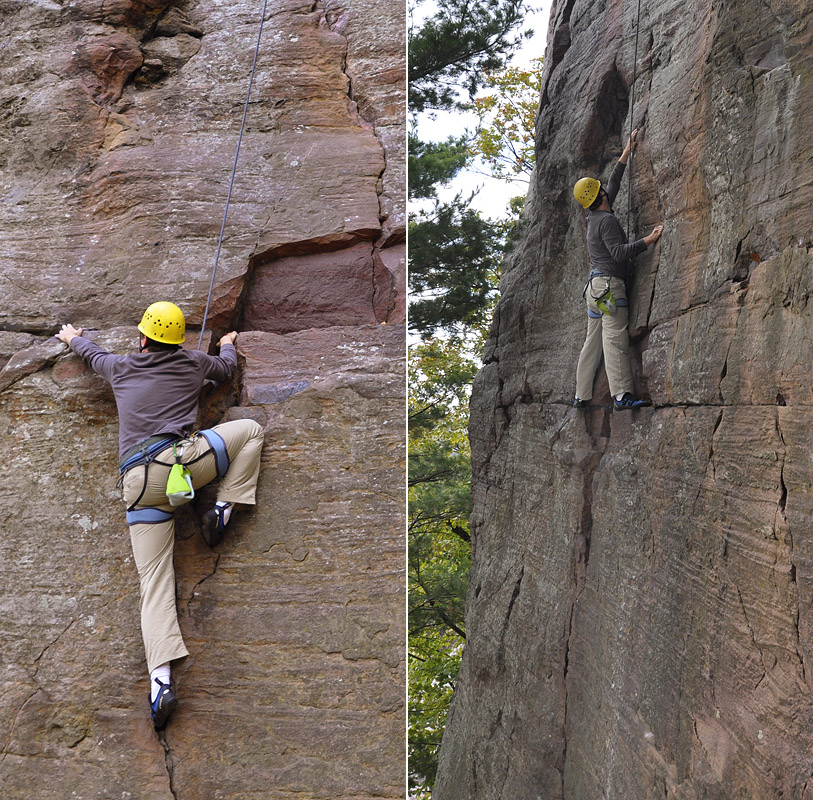 Kate made this thing look easy. Let's see how I do.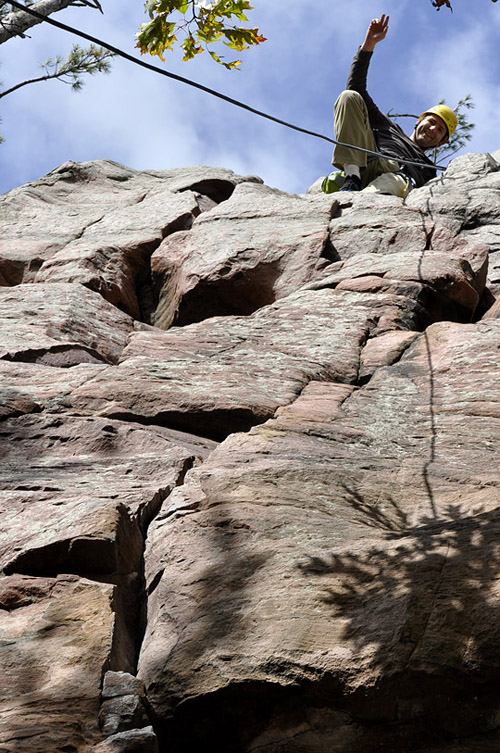 Not bad at all.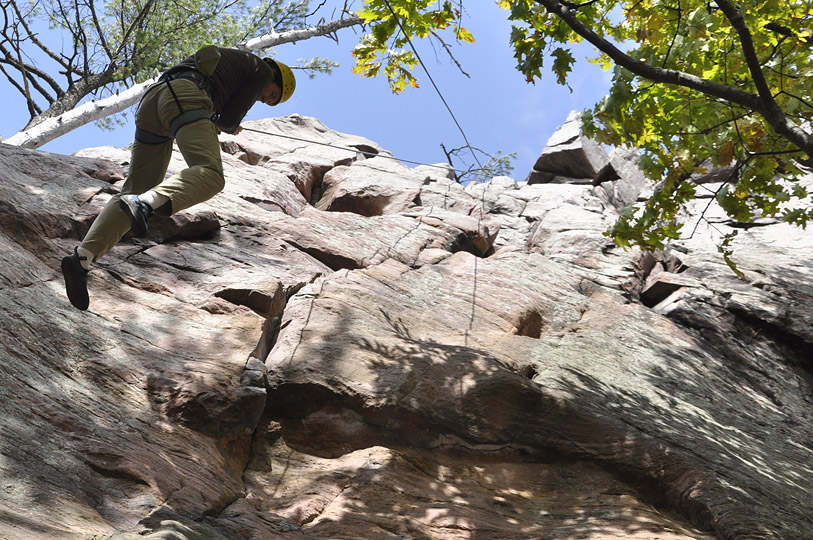 Weee!!!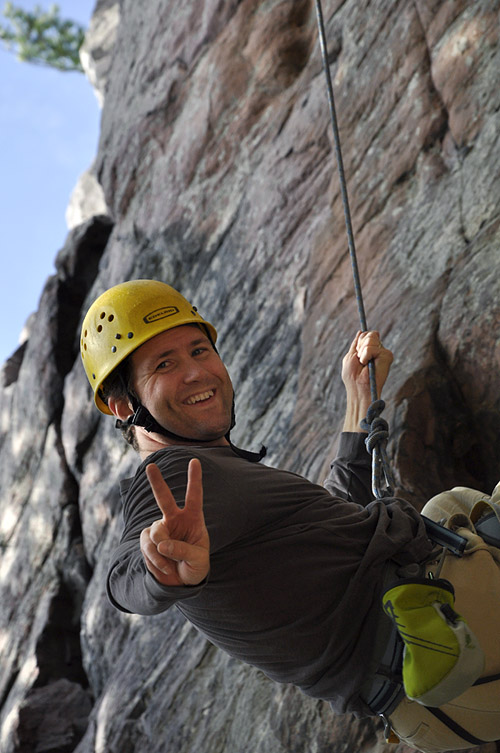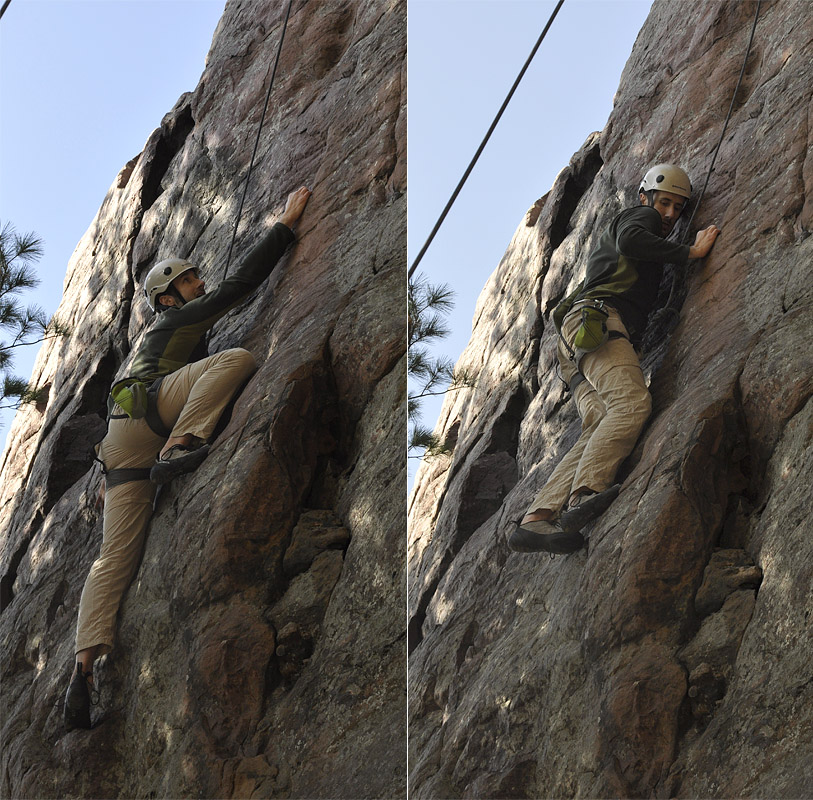 Crowe stretches it out on Full Stop.
The Rack
5.7

We cheer Crowe on as he works a more challenging
route up the base of The Rack.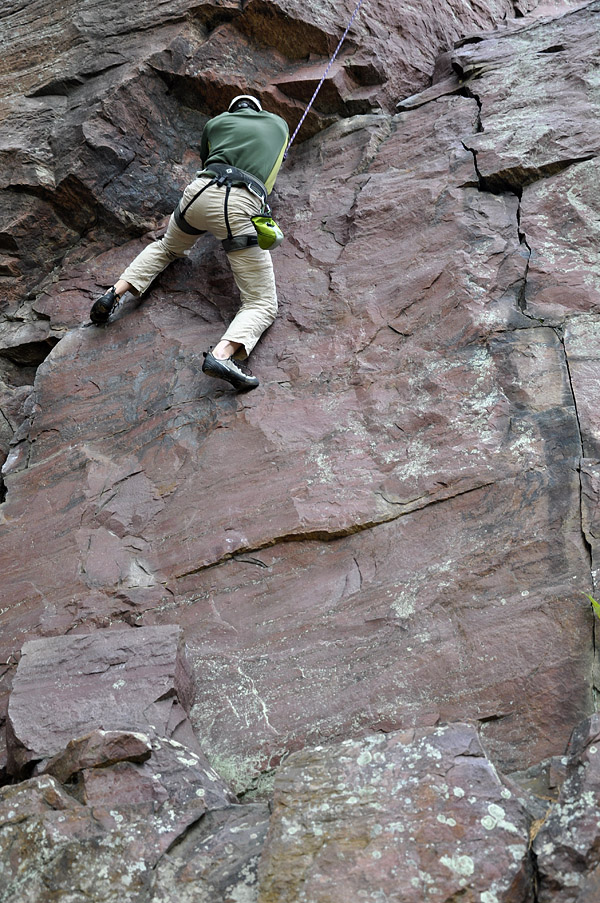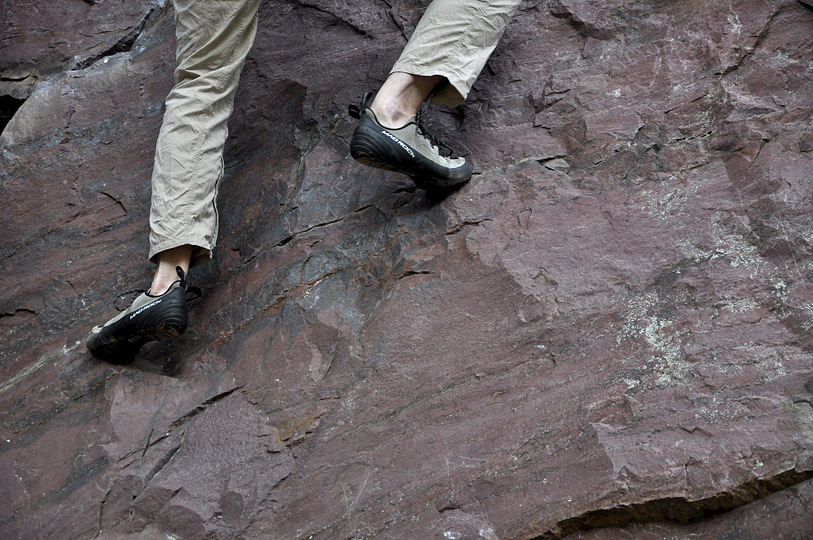 Not many footholds.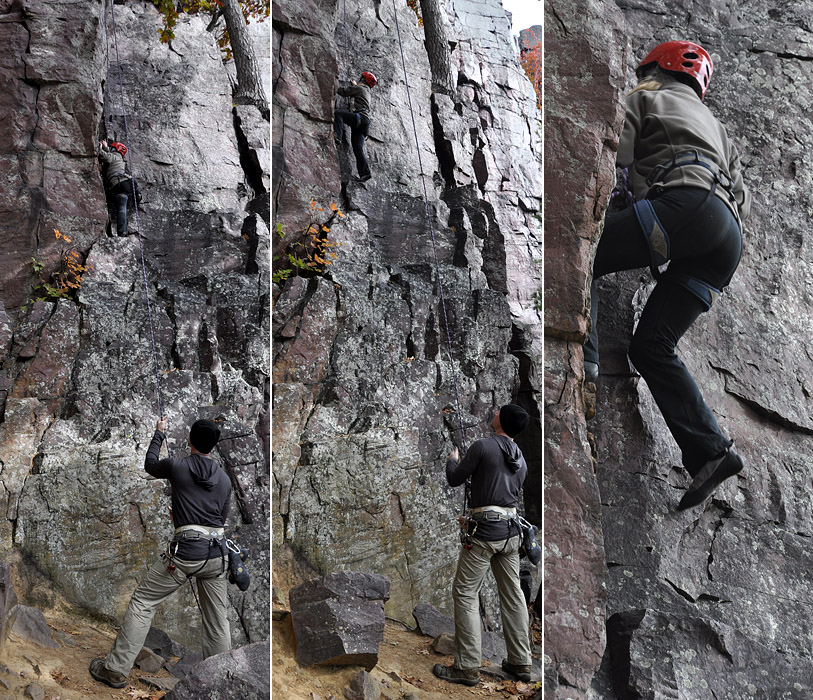 Angela's turn on The Rack.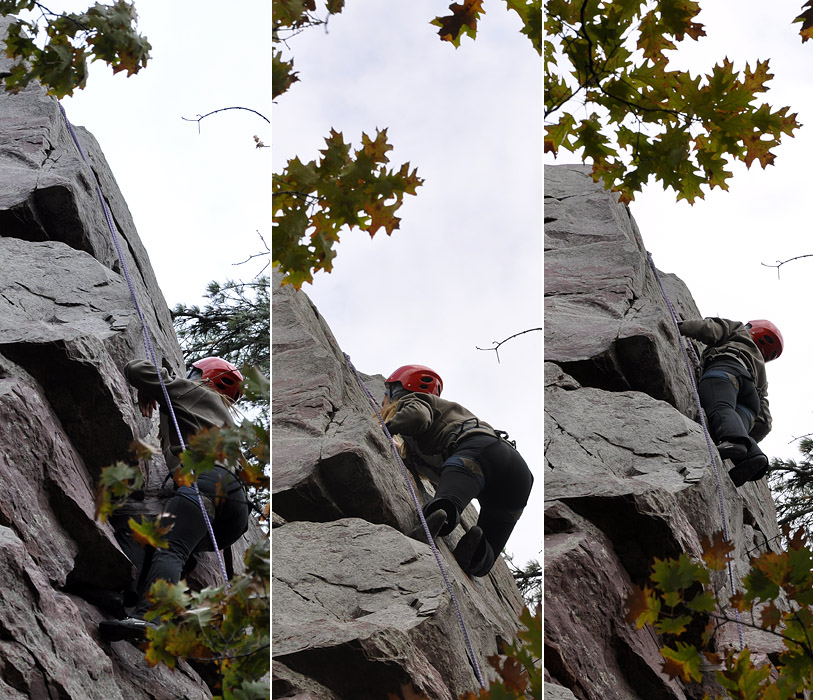 Up, and up.... the top just seems to keep going.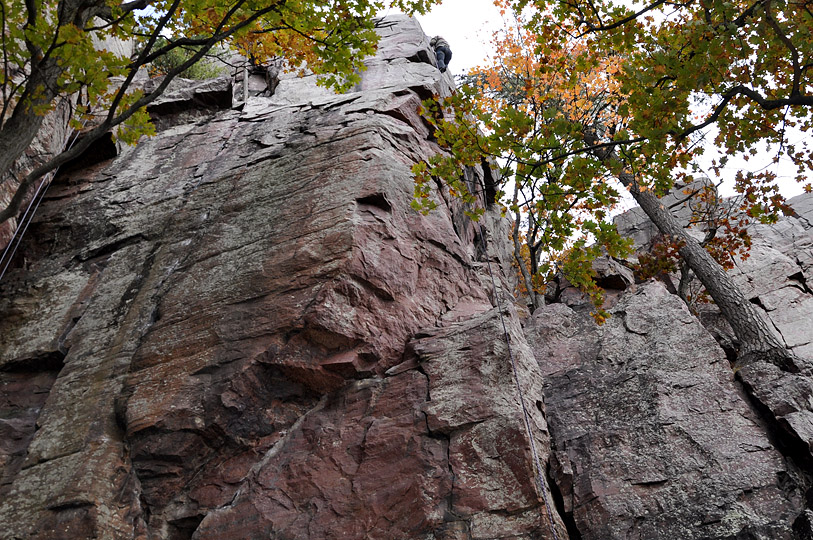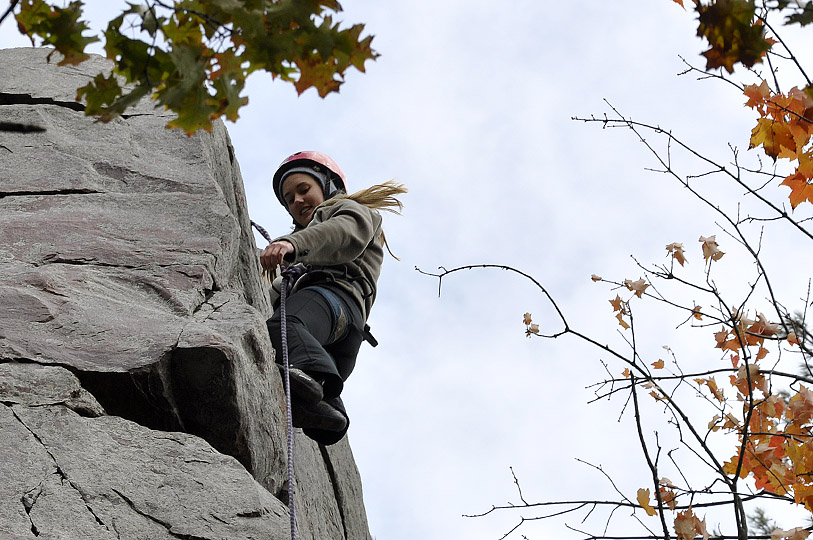 Nicely done!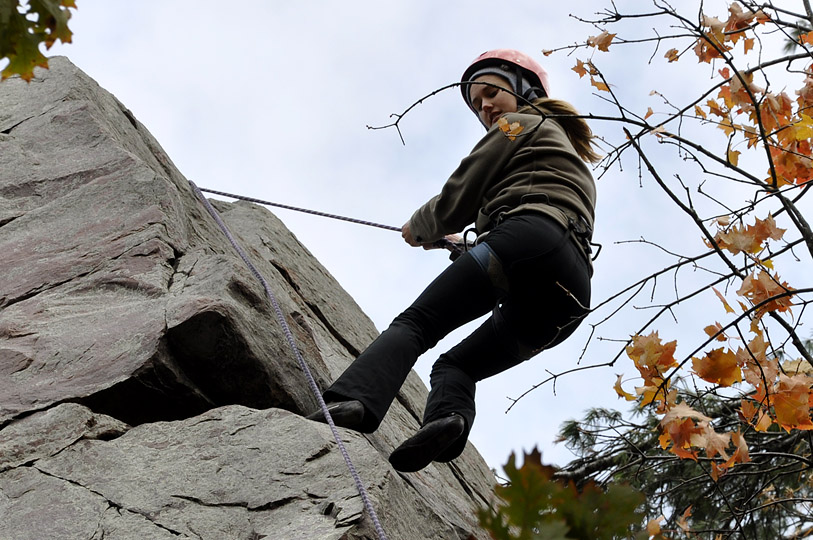 ... and back down again.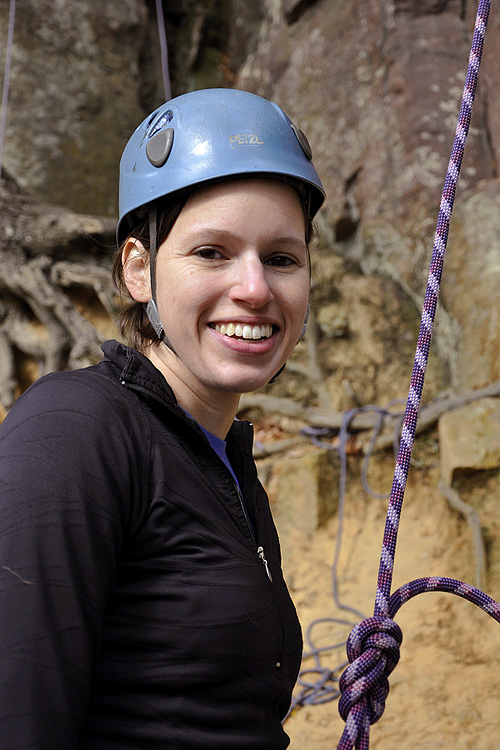 Kate is roped in and ready to go.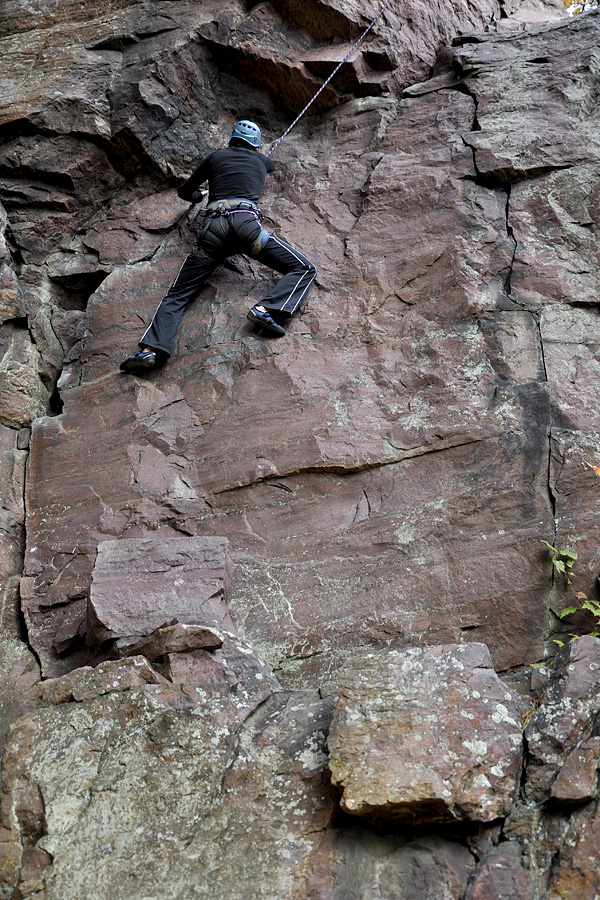 Kate on rock.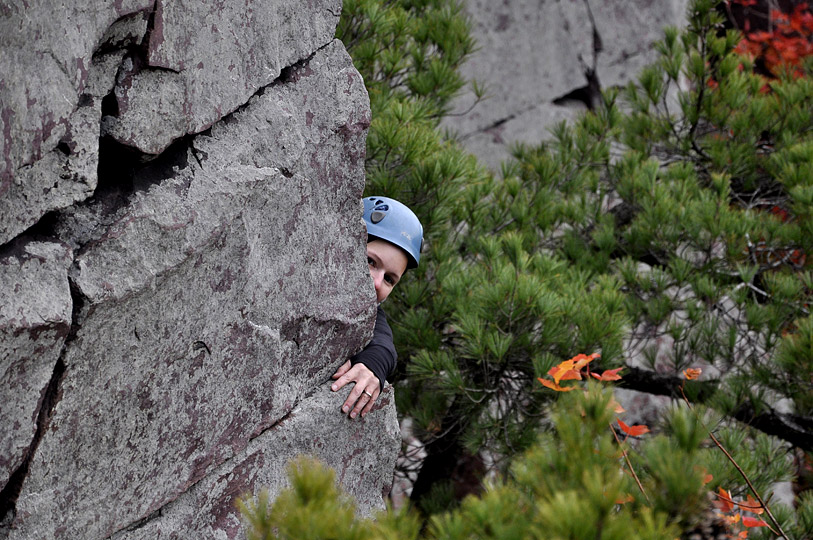 Peek-a-boo!
About half-way up Kate spots me around the corner.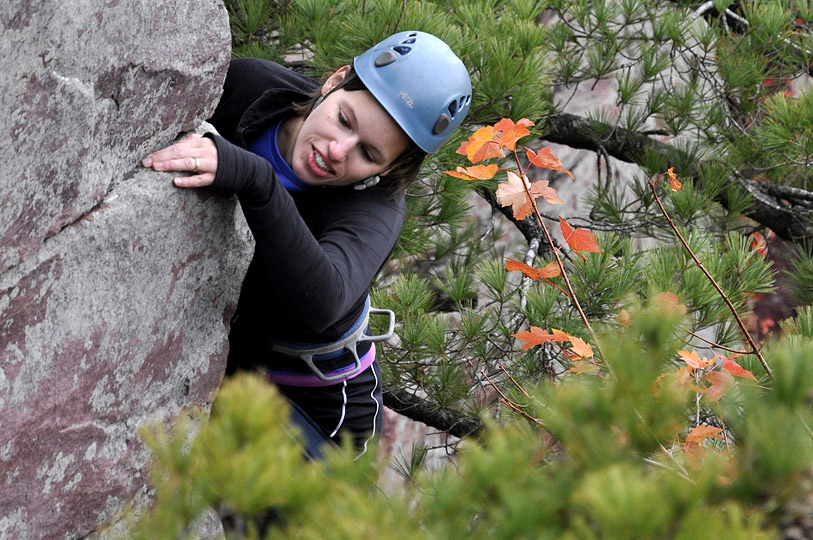 Searching for a good hold.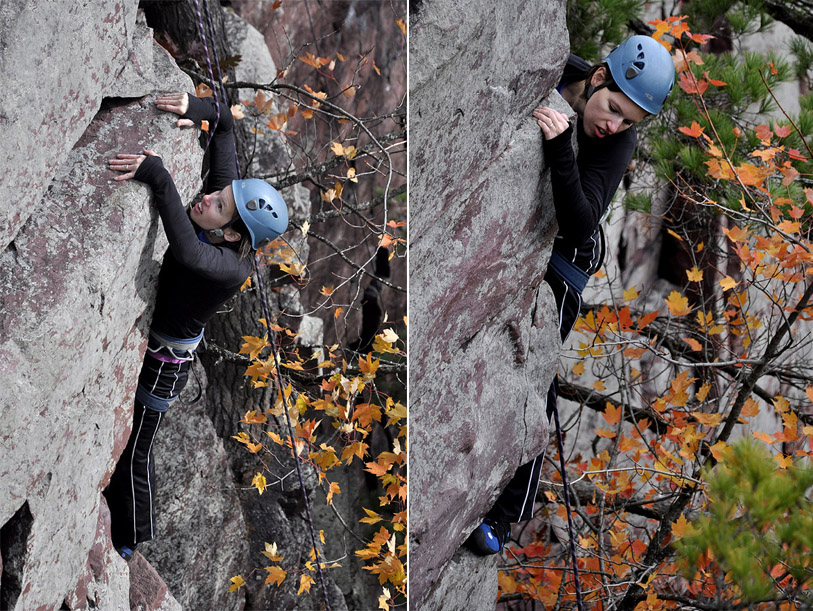 It's a long way down from here, but Kate's got a good foothold.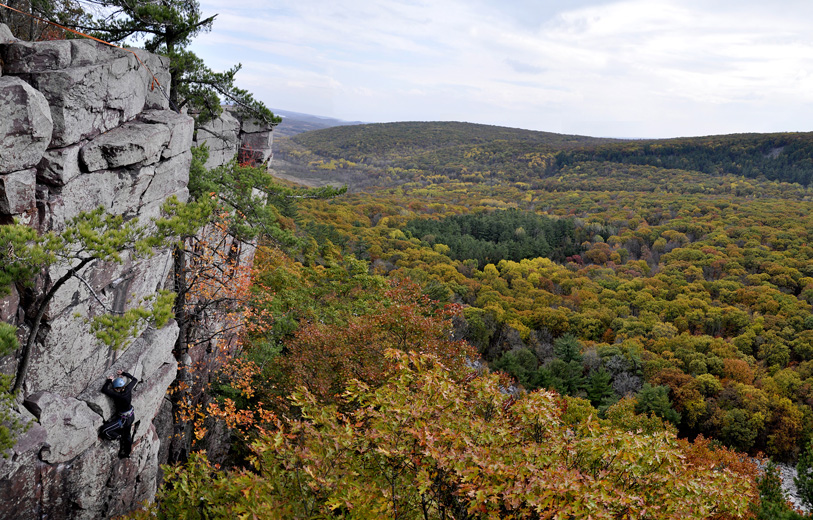 This route offers some pretty nice exposure once you climb above the treeline.

[+] Enlarge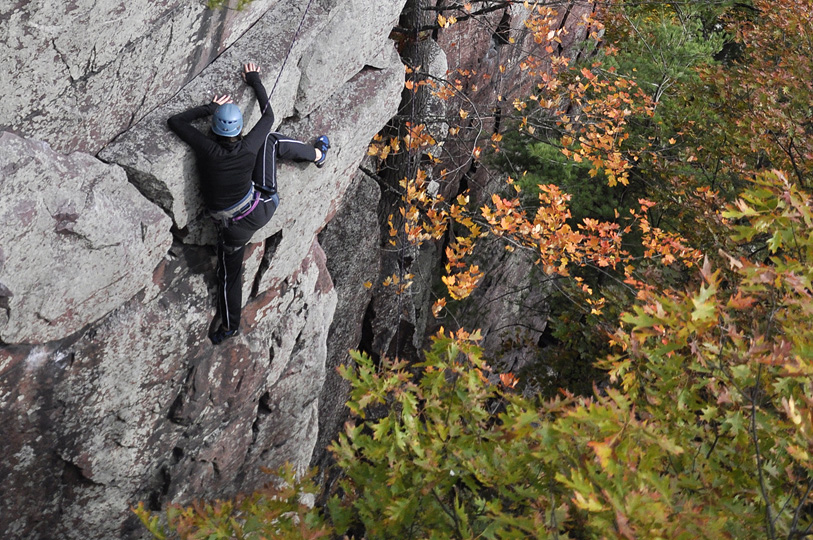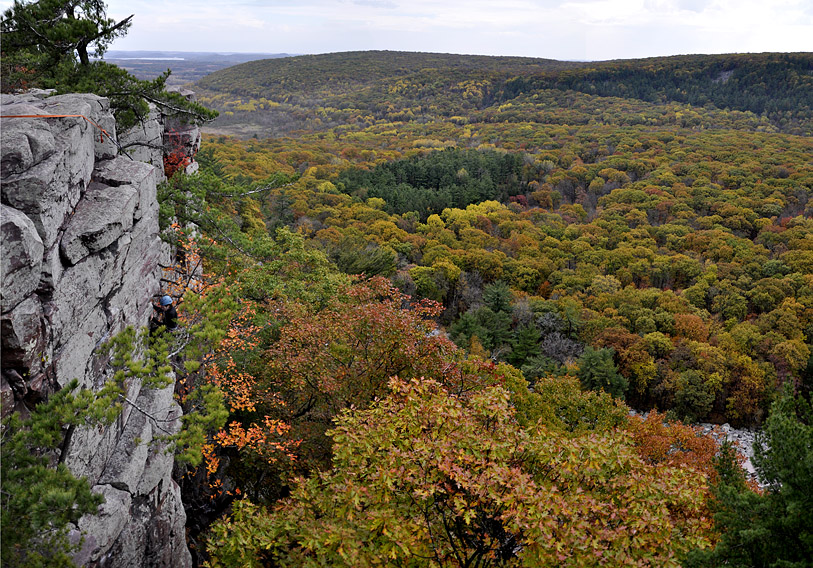 [+] Enlarge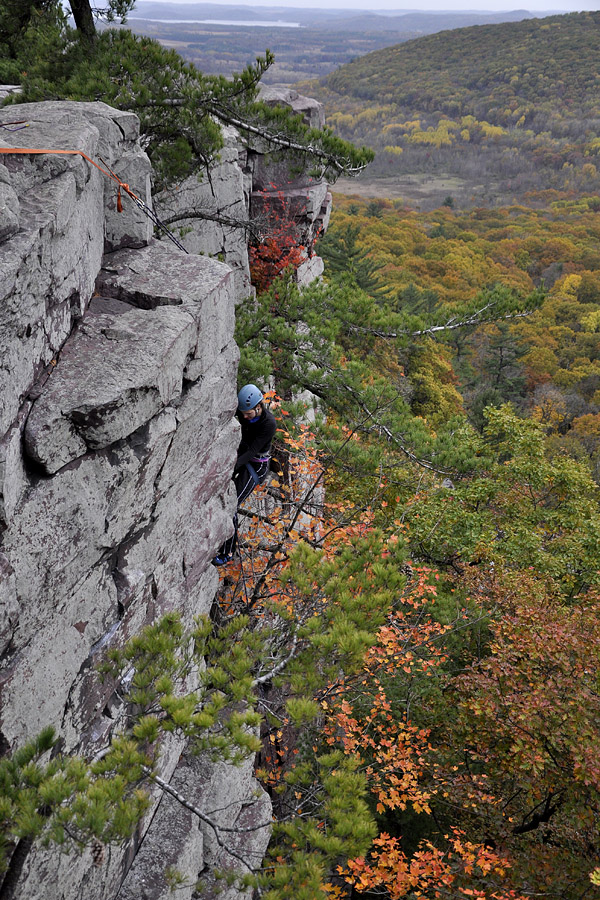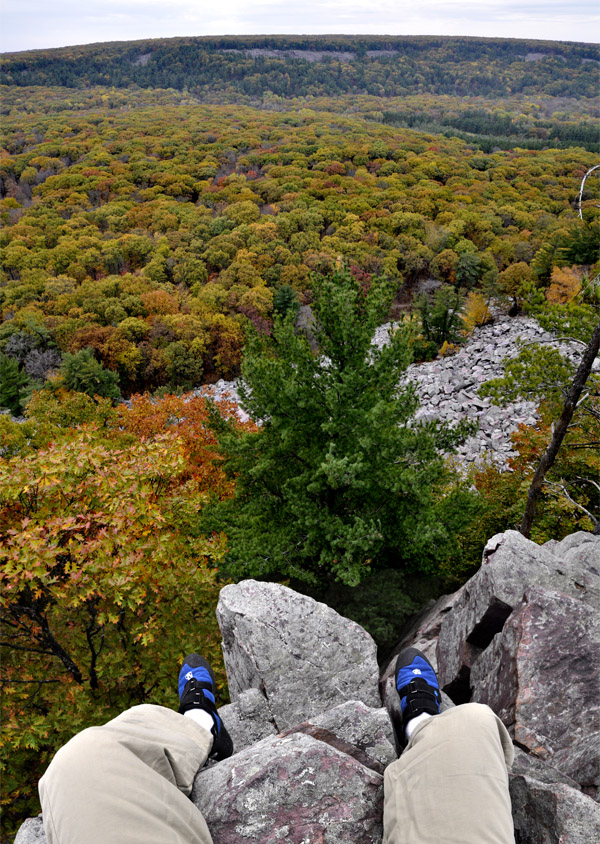 A view from above.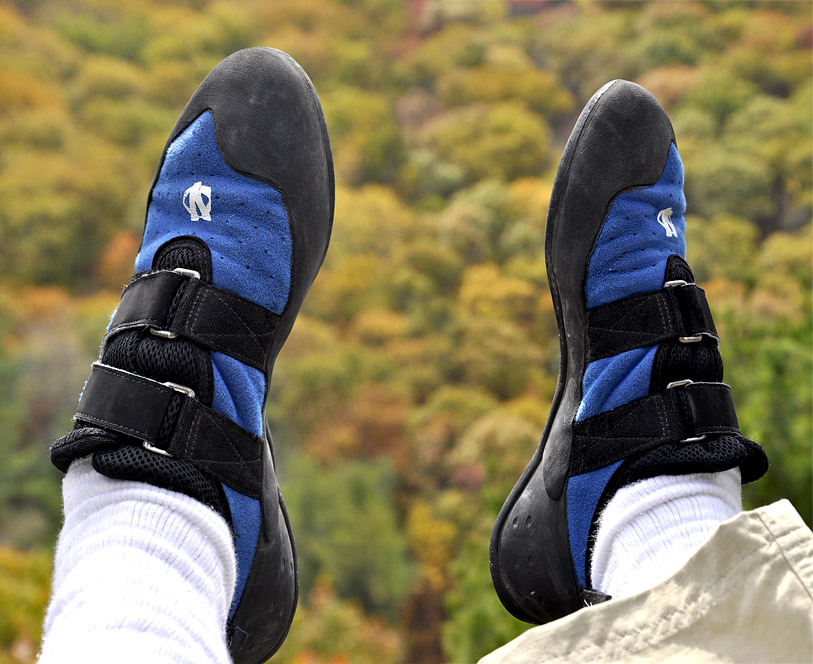 These boots are made for climbing, and that's just what they'll do.
Mouse's Misery
5.10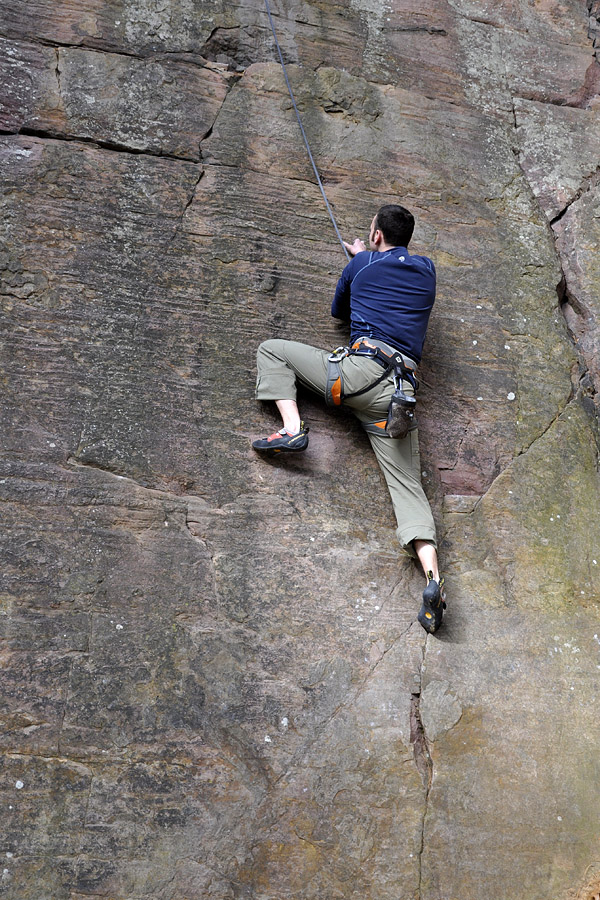 Our guide Nick makes like Spiderman up the base of Mouse's Misery.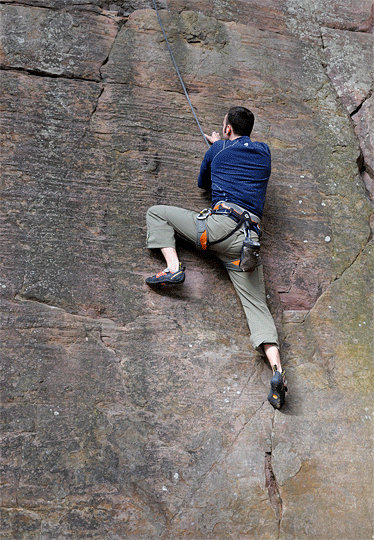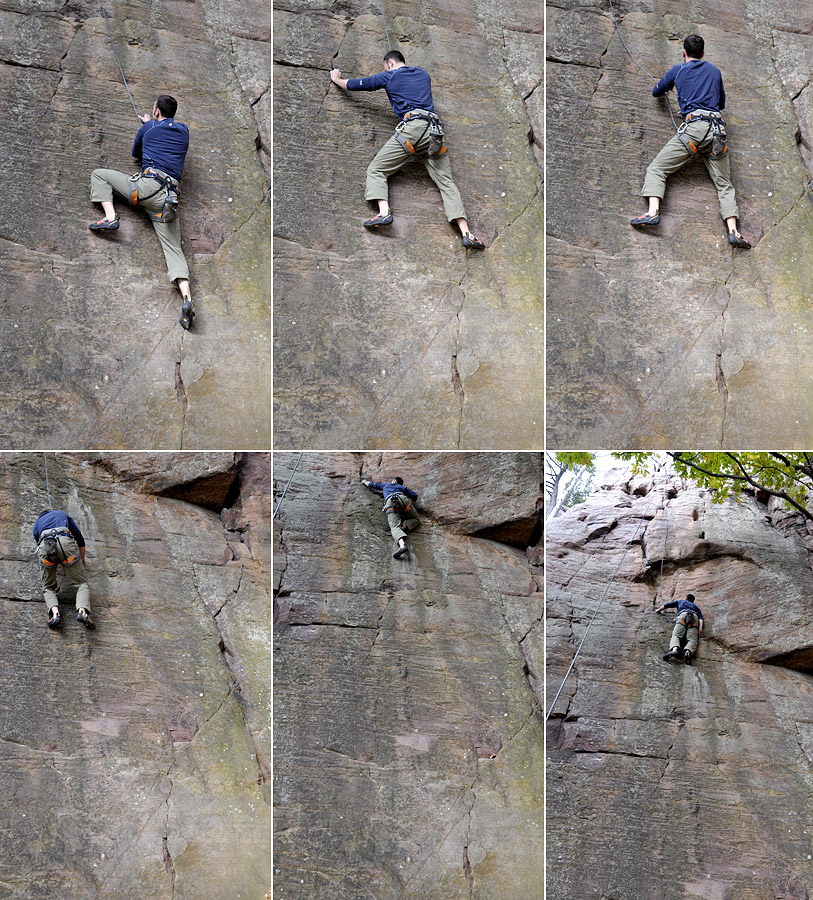 From here, it's easier to follow the crack up to the left, but Nick is up for a challenge and
takes the more difficult Mouse Tracks route (rated 5.11) off to the right.
This next move to get up and over that overhang is pretty crazy.
Watch the video below to see a sweet heel hook maneuver.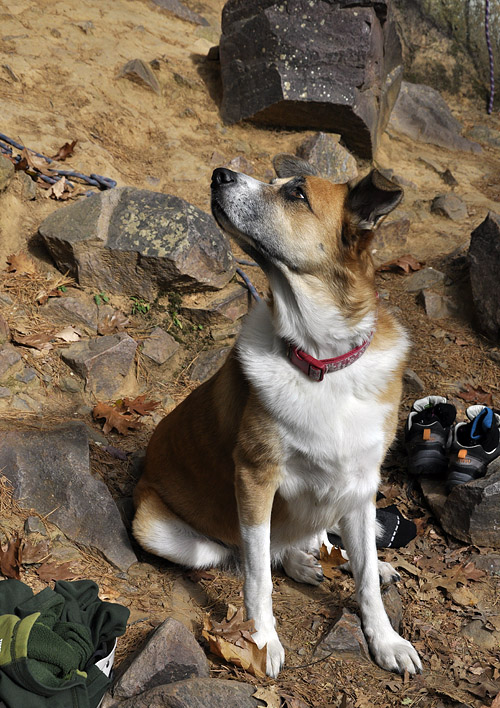 Nick's smooth moves even had his dog Halle transfixed.
Puffs Plus
5.4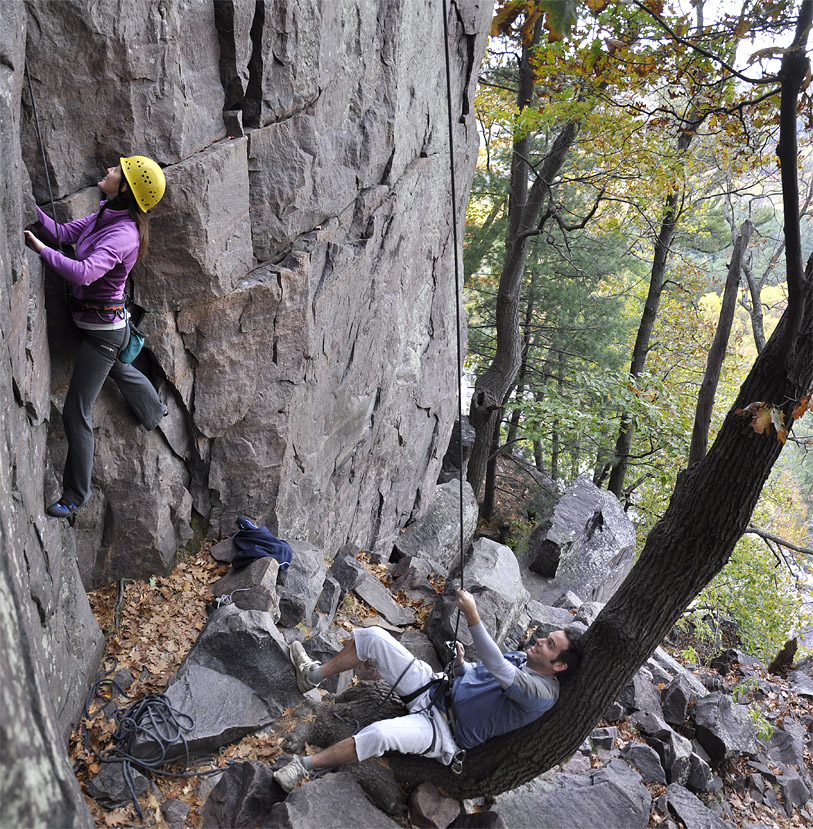 Wyllys on belay as Leah rocks on.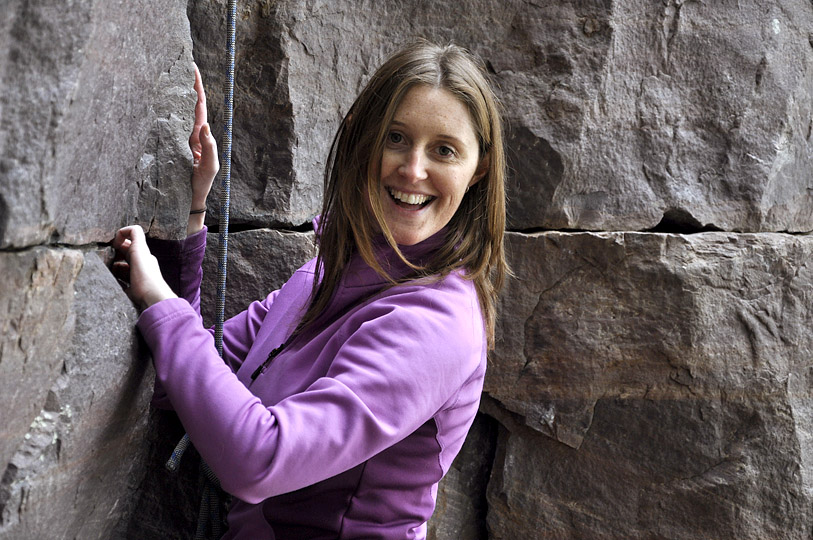 Leah, where's your helmet??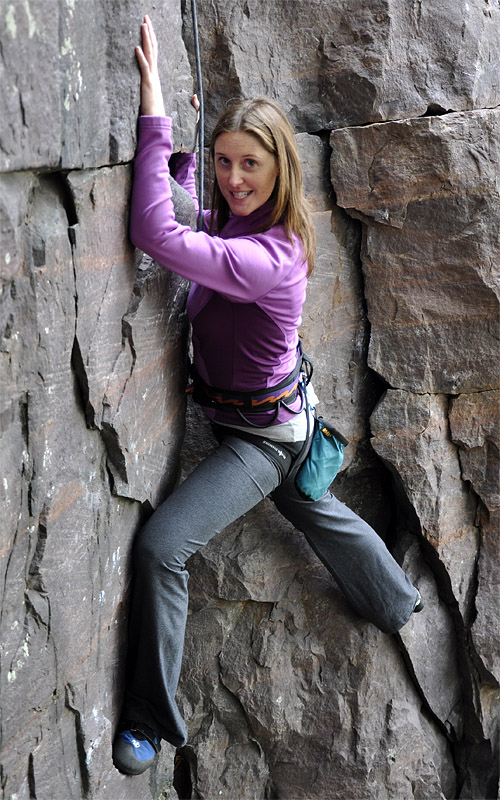 Mrowl! Leah flashes her blue steel and strikes a Tiger Beat pose.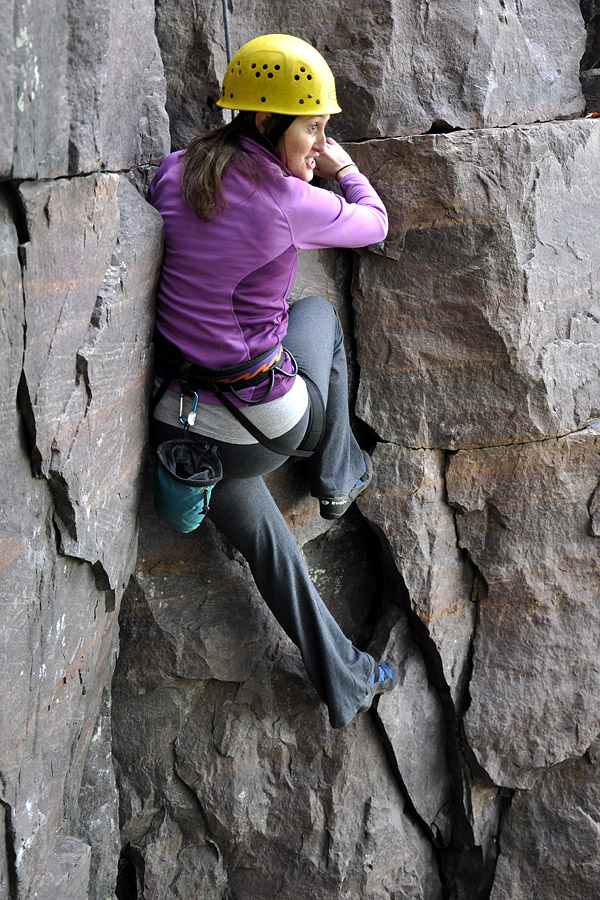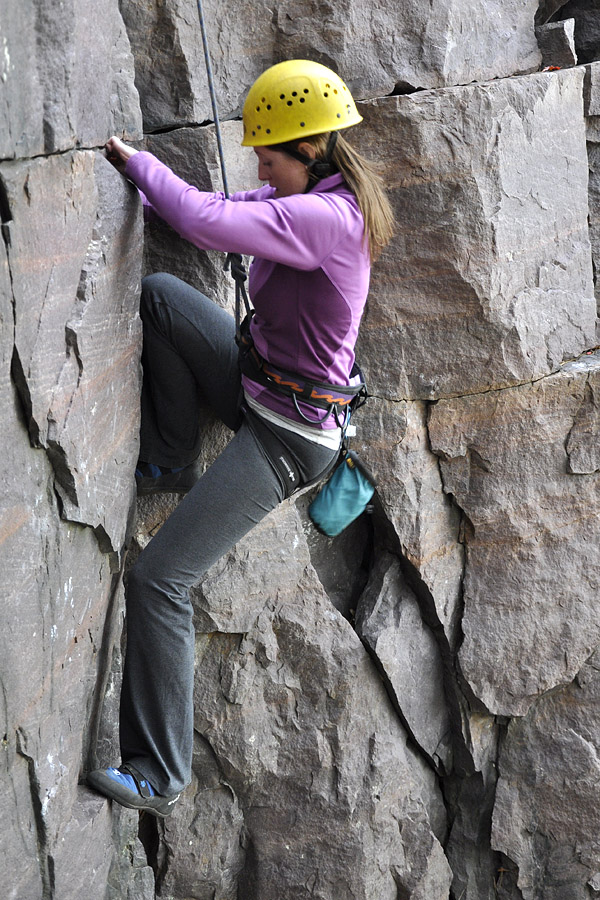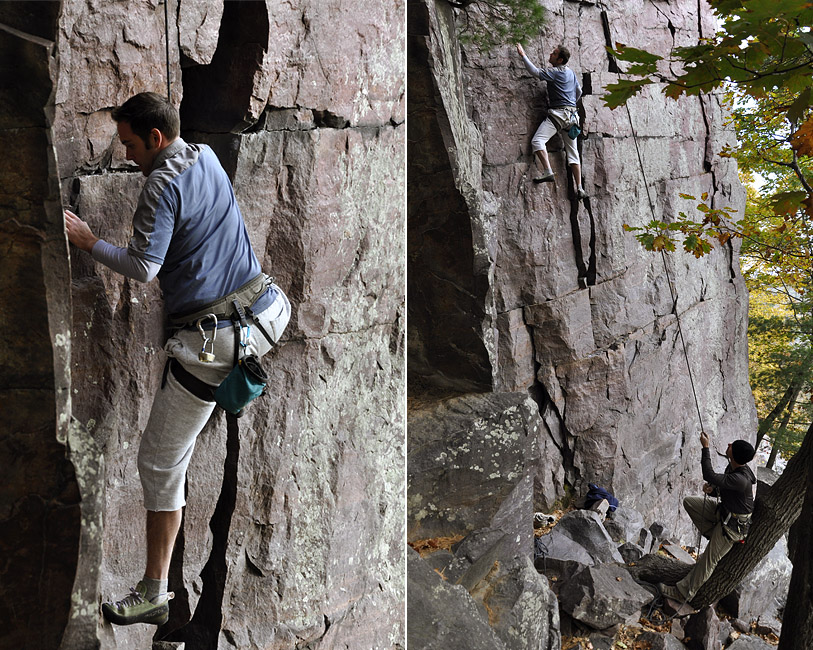 Wyllys makes it hard to believe he had knee surgery just a month ago.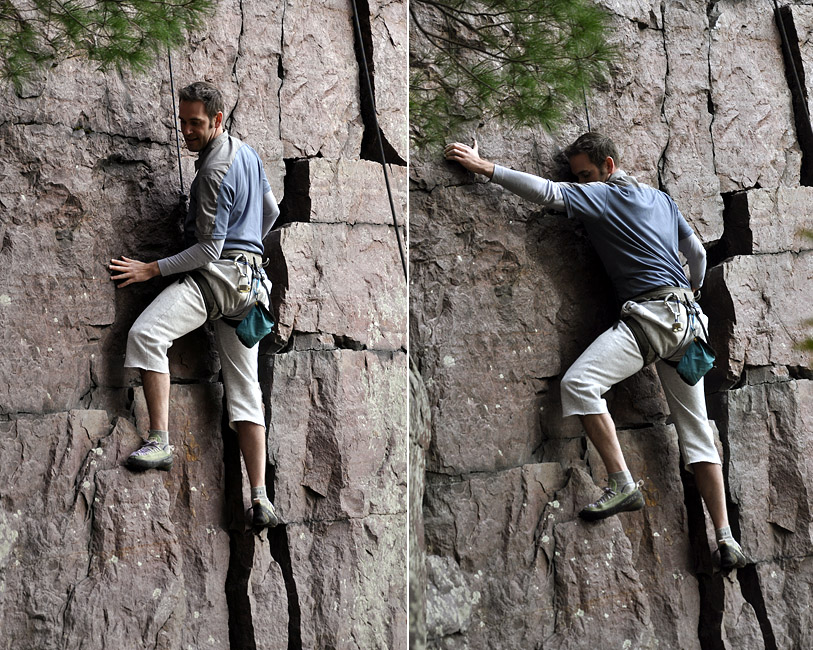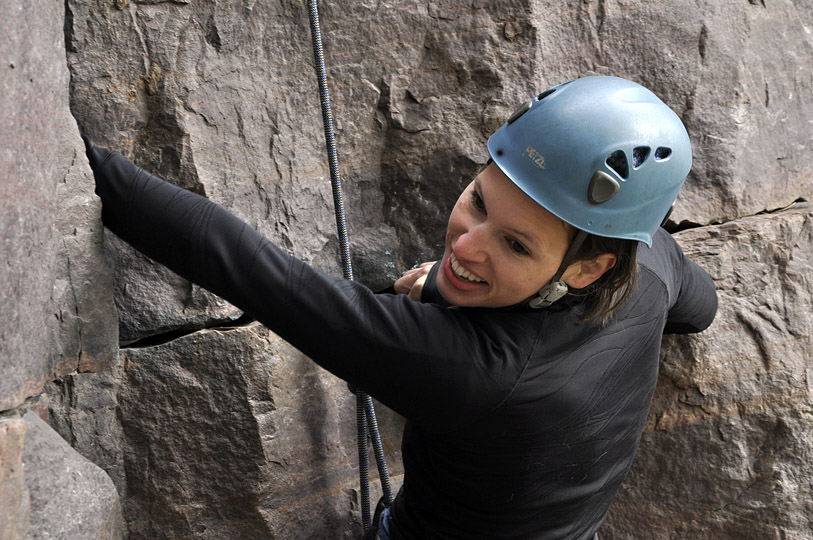 Kate is a smiley climber.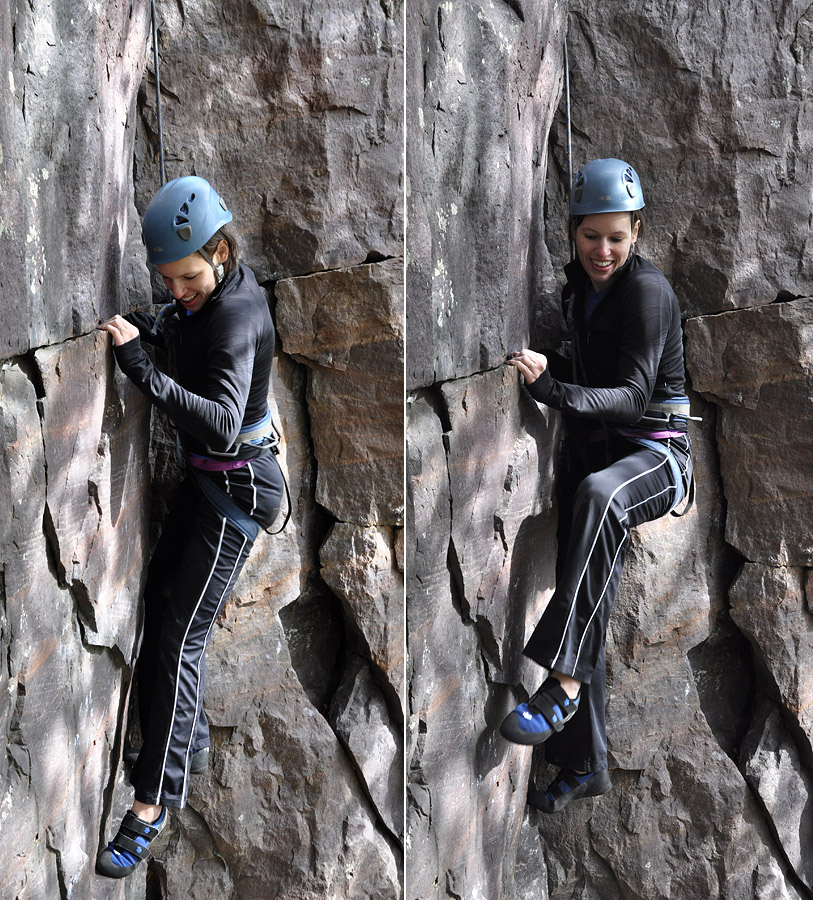 Peter's Project
5.7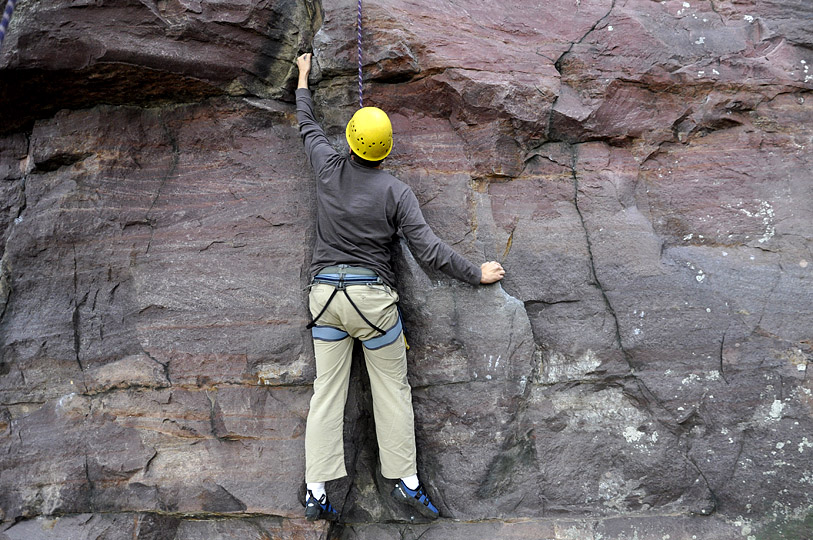 This climb looked much easier than it ended up being.
Plenty of solid handholds but very few places to stow the toe.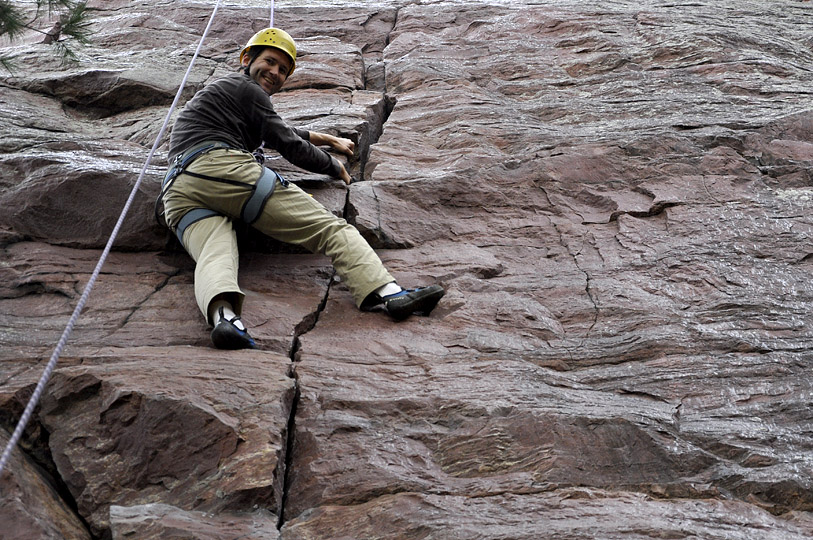 I think I made it about 1/3 of the way up before the rain washed me down.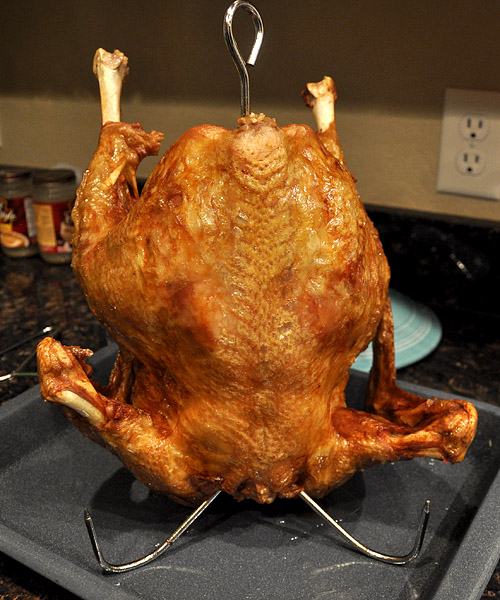 This trip fueled by deep fried turkey.